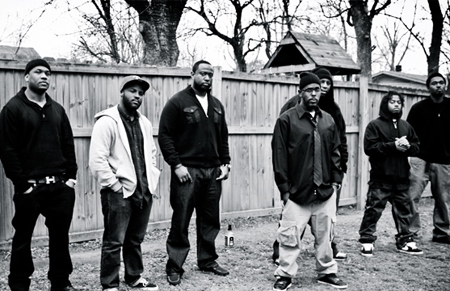 A few days ago I was fortunate enough to have chopped it up with the production team, Block Beattaz, who now are the topic of discussion since the release of Stalley's recent project, Honest Cowboy. The 7 man production crew landed their first commercial placement back in 2002 and just recently had work nominated for a BET Hip Hop Award. Check out their Who Got Next Interview below…
Stalley – Raise Your Weapons (Prod. by Block Beattaz)

Stalley – Swagin' Feat. Scarface (Prod. by Block Beattaz)

ST 2Lettaz & Jackie Chain – John Legend (Prod. by Block Beattaz)

Tell us a little bit about Block Beattaz?
 CP: We're a 7 member production crew out of Huntsville, Alabama. We're led by super producer Mali Boi. The rest of the crew includes myself CP, Cees, Bossman, R.Dot, DJ Cunta and Fanez. We've been in the business since 1999. Our first significant commercial placement was a song called Lacs and Caprices feat T.I. back in 2002. We've been able to work with a range of artist from Mike Posner to Freddie Gibbs. We were the production team behind G-Side, Jackie Chain, Kristmas, Zilla, Mic Strange and a lot of Alabama artists that were able to garner some regional success.
I have been a fan since Savage Journey To The American Dream. When did it set in that your music was going to heard by millions upon millions of people having produced records featuring Stalley, Meek Mill, Rick Ross, Curren$y and Wale.
CP: We always knew that it was inevitable, but I think it set in once we saw Diddy and Ross chilling in a video over our production. Hearing Meek and Wale over our production while they had the game in a chokehold was also a view of what was to come. We're very appreciative of the opportunity.
You all have a very strong fan base in the UK. What would that be credited to considering you all reside in Huntsville, Alabama?
CP: That's definitely attributed to the Rob, Dave, and Superix over at Southern Hospitality in London and the homie DJ Giraffo in Oslo. They were really the first to put our music and story in print and really championed the music from a fan's perspective and did everything they could to get us exposure. I think being from Huntsville confirmed that our music transcended racial, cultural and socioeconomic boundaries which meant that we had a viable product.
Stalley's latest project 'Honest Cowboy' was blessed with more production from Block Beattaz, What was your favorite record on the project?
CP: Ah man, that's a tough one. It's a toss up between The Highest and Feel The Bass iii. Seeing the process of the making of The Highest and working with Crystal Torres was a production milestone. She's a true professional and super talented. Making that song was easy. Feel the Bass is an ode to one of our music idols DJ Magic Mike. We wanted to present the 808 game in a way that was unexpected. Melancholy chords under lush strings and then that quad coming out of nowhere. It was beautiful.
Sources have shared with me that Stalley's 'Honest Cowboy' has been nominated for 'Best Mixtape' at this years BET Hip Hop Awards. With the majority of the records credited to you all, how does that feel?
CP: It's definitely an honor to be recognized. Although some is deserved, we definitely can't take all of the credit. We worked with an incredible cast of writers, producers and engineers. That energy allowed us to push ourselves and our creative limits. We've been making music like this for a long time so we're not really surprised but definitely honored to finally get that recognition. 
What are you listening to in your car playing today?
CP: I've actually been jamming this group out of Cali called J. Davey. Its mainly this male and female tandem with these super chill grooves over some electro boom bap and then the chick laces all the tracks with super smooth vocals that compliment the music perfectly. My favorite song is Anything Goes that I caught while watching random movies on Netflix. I heard the song and had to Shazam it. Just some chill music to relax the soul.
What's in the works for Block Beattaz? I know things have been picking up since the release of 'Honest Cowboy'. 
CP: Just working and attacking the opportunities placed in front of us. We're still strong in our local market and in the initial phaze of organizing a big project for the state. We have a few Block Beattaz Presents projects dropping also. So we're just continuing to be patient and calculated and making sure we keep putting out quality music that will stand the test of time. 
Well I think my time is all up. Before you take off let the people know where they can find you on the net and again…Thanks for the time. 
You can find us on BlockBeattaz.com, Block Beattaz on Facebook and @blockbeattaz on twitter. We really appreciate HipHop Since 1987 for rocking with us heavy and for helping us on this come up. Stay tuned.
If interested in 'Who Got Next' placement shoot over an email to [email protected] #NoGimmick
© 2013, @BWyche. All rights reserved.