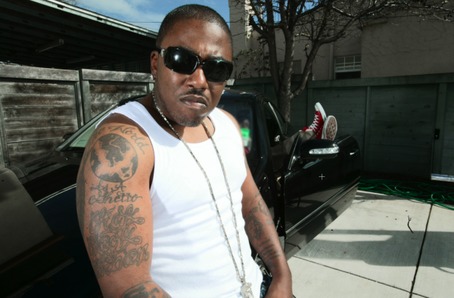 For those who haven't been paying attention, there's a major beef going on right now on the West Coast.
Bay area legend Messy Marv a.k.a Lil Paper'd Up Mess is caught in a war of words with fellow Bay area resident Philthy Rich.
Rich called out Marv after footage surfaced of him after he was robbed in Reno Nevada in his song"Swear To God."
After his track hit the net, more than Marv tried to come at Philthy. Another rapper named on the track, Kafani took issue with Rich mentioning his name. Kafani made his own diss record and tried to shoot it in Philthy's hood. The result was Kafani being shot 6 times. He's currently on life support and is looking at a lifetime of being paralyzed.
The temperature of the beef getting turned up after Philty Rich dropped a mixtape called "Messy Marv Is A Fake Blood" Marv is now gearing up to drop his response tape, "Philthy Rich Is A Bitch"
Before things get too out of hand, we reached out to Marv to speak about the source of the beef, Kafani, his previous beef with Too Short and whether or not the beef will ever end. Listen to Mehka of Djsdoingwork.com exclusive interview below.

via djsdoingwork.com
© 2013, Eldorado2452. All rights reserved.