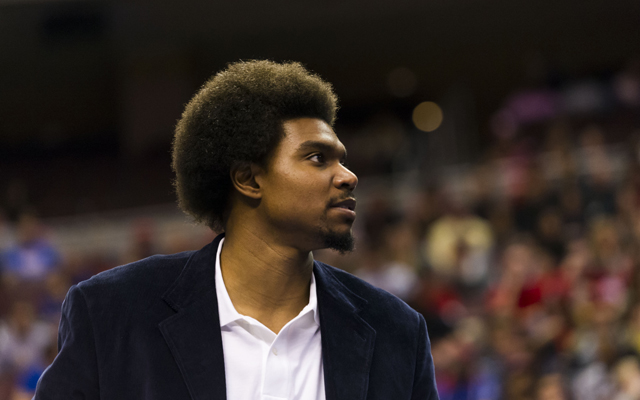 Andrew Bynum has decided to join the Cleveland Cavaliers on an incentive-laden, two-year contract, sources told ESPN.
The deal is worth up to $24 million, sources said, and the Cavs hold a team option for the second year. Only $6 million of the contract is guaranteed, according to sources.
Bynum, who missed the entire 2012-13 season with the Philadelphia 76ers because of a knee injury, will have to reach a variety of health- and games-related benchmarks to collect the full $12 million in the first year of the deal, sources said.
Sources said the Cavaliers, however, see the $6 million guarantee as a low-risk move given how rarely a former All-Star center such as Bynum becomes available on the open market — and how rarely they are available to lottery teams such as Cleveland.
If Bynum exceeds all expectations and plays well, the Cavs also can pick up the second-year option and have another attractive piece alongside star guard Kyrie Irving for their long-planned attempt to bring LeBron James back to Cleveland in 2014 free agency.
Cavaliers owner Dan Gilbert was a force in the pursuit of Bynum and was willing to gamble $6 million that the 25-year-old will have a bounce-back season in 2013-14, league sources told ESPN.
Bynum made his decision Wednesday night after three consecutive days of meetings with Cleveland, the Atlanta Hawks and Dallas Mavericks.
Neither Atlanta nor Dallas, according to sources close to the talks, made Bynum a formal offer after their respective sitdowns with him.
via ESPN.com
© 2013, Eldorado2452. All rights reserved.