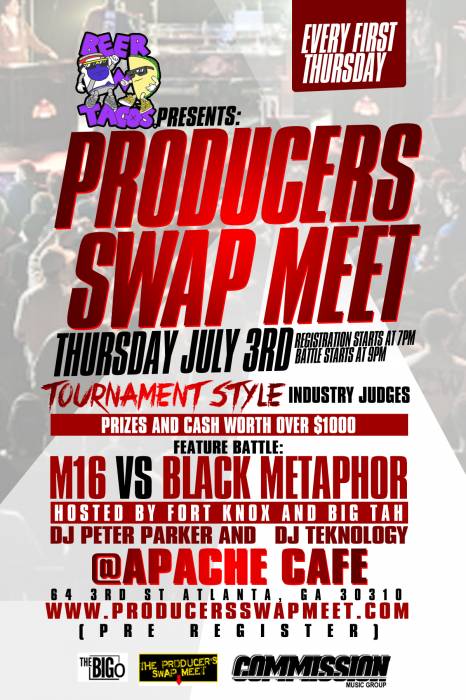 Beer and Tacos presents, THE PRODUCERS SWAP MEET in Atlanta.
Dinner – Drinks – Registration Starts 7P
General Admission Doors 8P
$10 to cheer on your crew
$50 to battle
sign up: www.producersswapmeet.com
(BRANDING PLATFORM for PRODUCERS since 2002) It goes down Thursday, JULY 3rd, 2014 at Apache Cafe, 64 3d St Atlanta, Ga.
THE PRODUCERS SWAP MEET is NOT just a beat battle! This is an event that brands up and coming producers and takes their awareness from unknown to known. Some of our past participants who we have helped brand through the event have been the following:
M16 ("Duffle Bag Boy" Playa Circle, "I Do" Young Jeezy, Jay-Z, Andre 3000)
Black Metaphor ("Get Right" Jeezy, "Rich Forever" Rick Ross)
D.R.U.G.S ("I Just Wanna" 50 Cent, "Can You Buy That" Ludacris)
Ced L Young (T.I., Rick Ross, Big Boi, Game)
Supahotbeats (Yelawolf & Tech n9ne)
Honorable C Note (Lil Wayne, T-Pain, Ludacris, Pussy Cat Dolls)
The Producers Swap Meet is the official producers competitive sports and entertainment league. We are the1st organized league to officiate and rank producers nationally and internationally. Producers have the opportunity to compete against one another in organized battles that will measure skill, talent and popularity.
© 2014, Eldorado2452. All rights reserved.