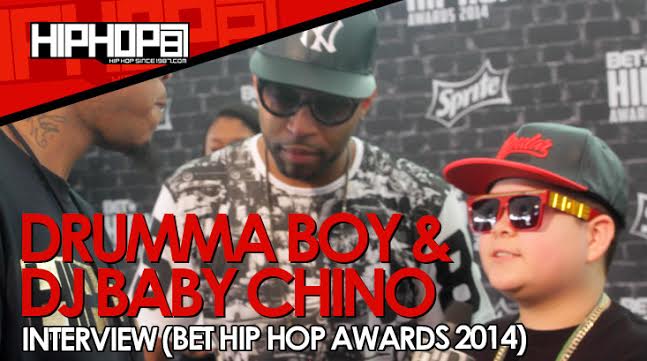 Recently during the 2014 BET Hip-Hop Awards Green Carpet, HHS1987 caught up with Drumma Boy and Drum Squad DJ's own DJ Baby Chino to discuss an array of things.
DJ Baby Chino spoke to us about being one of the youngest DJ's in the game. At the young age of 12, DJ Baby Chino spoke about his DJ career and when he first fell in love with music. Being a native of Texas, DJ Baby Chino also shared with us what the Texas rap scene is like. DJ Baby Chino explained that Texas' music scene is huge, so big that artist rarely have to leave the lone star state to grow their buzz.
After talking with DJ Baby Chino, we also had some time to discuss Drumma Boy's recent success. Drumma Boy has been a successful producer in the game for some time now having produced hits for T.I., Jeezy and many more. Most recently, Drumma Boy has linked with New Orleans native August Alsina for his latest project "Testimony". Drumma Boy spoke on producing "No Love" for August and Nicki Minaj as well as producing Jeezy's first single off the "Seen It All" project entitled "Me Ok".
Before concluding the interview, Drumma Boy also spoke to us about his recent business ventures. Having recently launched the Drum Squad DJs, Drumma Boy spoke about having his clothing line "Fresh Family", his liquor Moreno BHLV and more. Drumma Boy also discussed the Memphis music scene and how breaking music in Memphis can jump start growing a buzz throughout the south.
The interview was conducted by Eldorado. The interview was shot by Brian Da Director.
Follow On Twitter/ Instagram:
@DrummaBoyFresh
@DJBabyChino
@Eldorado2452
@HipHopSince1987
@BrianDaDirector
© 2014, Eldorado2452. All rights reserved.