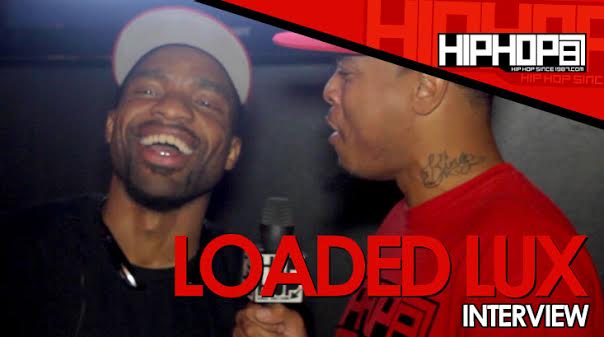 Recently while in Atlanta, HHS1987 caught up with New York City battle rapper Loaded Lux to discuss an array of topics. After discussing the lovely ladies here at the Strips Clubs in Atlanta, we spoke with Loaded Lux about his new project "Beloved 2" and must more.
Loaded Lux explained that he wanted to drop his new project during the month of September but that he needed to push the release date back due to a few features he is still waiting on. Loaded Lux explained why his "Beloved" series is very dear to him. With his fans use to seeing him on the battle scene, Loaded Lux explained that the "Beloved" series allows him to address real situations and give his fans the real Loaded Lux.
We also spoke with Loaded Lux about the differences between composing singles and battling other artist. Loaded Lux explained writing a single he has more freedom and doesn't have to stay two steps ahead of his opponent. Loaded Lux spoke on battle rap matches requiring more skill, more craft and more work. Loaded Lux elaborated that both platforms allow him to express himself as artist and that he gives 110 percent in both arenas.
After addressing the differences between battle rapping and composing singles, Loaded Lux spoke evolution of the battle rap scene. Previously, battle rap was a genre of hip-hop that was only big in the tri-state area but recently battle rap has taken on more of the national spotlight. Loaded Lux informed us that he saw the popularity of the battle world grow once other mainstream artist begin to talk about and stamp the showmanship of the battle rap world. Loaded Lux spoke on battle rap shining a light on lyricism and the competitive nature of hip-hop.
Before concluding the interview Loaded Lux spoke on his future endeavors. Loaded Lux spoke on introducing the world to the Aces Clique movement and continuing to give the game 110 percent.
The interview was conducted by HHS1987's Eldorado. The interview was shot by HHS1987's Brian Da Director.
Follow On Twitter/ Instagram:
@iamLoadedLux
@Eldorado2452
@HipHopSince1987
@BrianDaDirector
© 2014, Eldorado2452. All rights reserved.