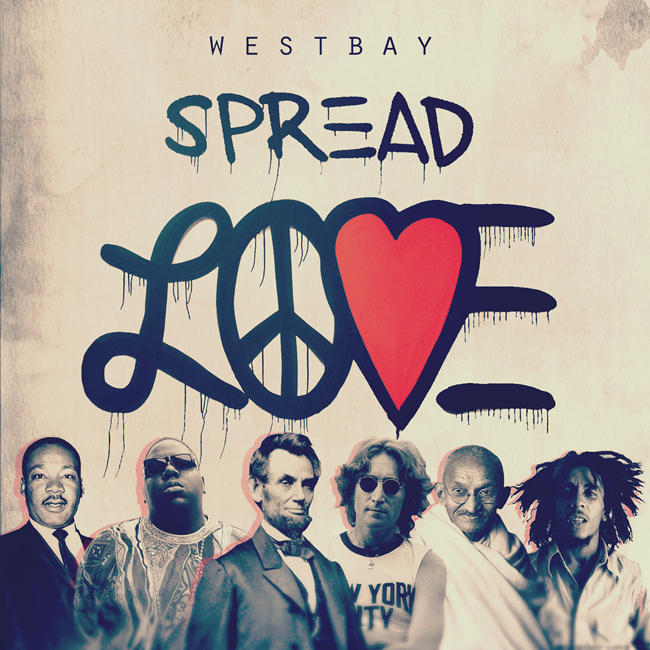 After previously releasing Almost Famous and A World Full of Mannequins, Brooklyn native Westbay gets set for the June 3rd release of his third solo effort, Spread Love. The album is conceptually inspired by a movement that Westbay has begun with the New York City street artist Mr. Love, which consists of a series a weekly events that allows both artists to showcase their positive message through both song and visual arts. Spread Love is a polished, high energy album that highlights the Brooklyn native's wordplay, penchant for crafting meaningful rhymes, and ear for top shelf production, in one cohesive, fourteen track effort. The LP includes guest features from Maino, and Troy Ave among others, and boasts production from tC Dibiase, Parkside, Joe Josh Beats and more, proving that Hip-Hop is alive and well in the other side of Brooklyn. Spread Love is now available through all major digital retailers!
Tracklist; 
1.) Wanting More (Intro) [prod. by tC Dibiase]
2.) Spread Love (Skit)
3.) Spread Love (prod. by Parkside)
4.) Sing A Little, Live A Little (prod. by Mike "Pizza" Piazza)
5.) High End (feat. Troy Ave) [prod. by tC Dibiase]
6.) They Told Me (feat. Frank B & Fitted) [prod. by Joe Josh Beats]
7.) Got The Fire (prod. by Parkside)
8.) Torch (feat. Saint James) [prod. by Parkside]
9.) Fly With Him (feat. Maino) [prod. by Joe Josh Beats]
10.) Take A Ride With Me (prod. by Grind Kings Productions)
11.) Video Games (prod. by Joe Josh Beats)
12.) Time (prod. by Parkside)
13.) Little Kid (prod. by Joe Josh Beats)
14.) The Guy (Westbay, ClimaX, Bonk) [prod. by Allrounda Productions]
© 2014, Eldorado2452. All rights reserved.