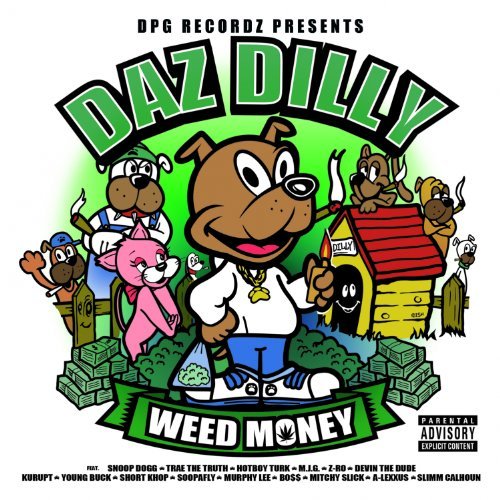 Before his new LP drops, Daz Dilly provides us the cover art and tracklist for Weed Money, which drops April 22nd. Coming in with 12 tracks, the album contains contributions from Snoop Dogg, Kurupt, Devin The Dude, Z-Ro, Young Buck, Trae Tha Truth and more. The album is currently available for pre-order on Amazon.
Check out the tracklist below.
1. The Set Up N'tro
2. 448 Gramz
3. What Up (feat. Trae Tha Truth & M.J.G.)
4. Blow'd (feat. Devin The Dude & Snoop Dogg)
5. What's Yo Pleasure (feat. Snoop Dogg)
6. 1-2-3-4 (feat. Soopafly)
7. Scorcher
8. I.D.G.A.F. (feat. Slimm Calhoun)
9. Real Wit'cha (feat. Z-Ro)
10. Overtime (feat. Mitchy Slick & A-Lexxus)
11. Thug'n & Hustl'n (feat. Hot Boy Turk & Kurupt)
12. The Reason Why (feat. Short Khop, Young Buck, Bo$$ & Murphy Lee)
© 2014, miixtapechiick. All rights reserved.