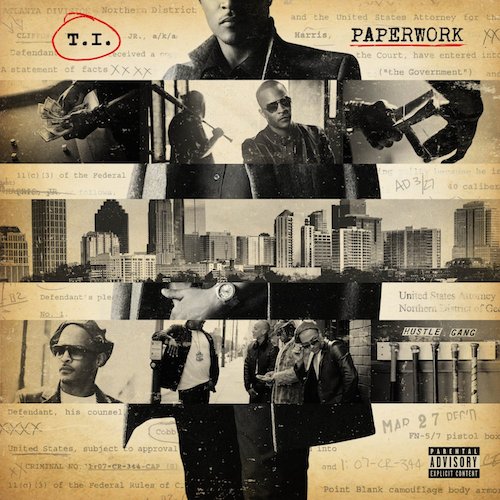 With the release of his new LP, Paperwork dropping next week, T.I. gives us an exclusive listen to the album before it drops in stores and on iTunes. Jam packed with 18 records, the ATL native enlists Pharrell, Jeezy, Young Thug, Rick Ross, Chris Brown, Iggy Azalea, Lil Boosie, Nipsey Hussle, The Dream, Usher, Trae The Truth, and more for his ninth studio album.
Stream: T.I – Paperwork

Enjoy what you here? Pre-order the highly anticipated album on iTunes.
1. King
2. G Shit (feat. Jeezy & WatchTheDuck)
3. About the Money (feat. Young Thug)
4. New National Anthem (feat. Skylar Grey)
5. Oh Yeah (feat. Pharrell)
6. Private Show (feat. Chris Brown)
7. No Mediocre (feat. Iggy Azalea)
8. Jet Fuel (feat. Lil Boosie)
9. Paperwork (feat. Pharrell)
10. Stay (feat. Victoria Monet)
11. About My Issue (feat. Victoria Monet & Nipsey Hussle)
12. At Ya Own Risk (feat. Usher)
13. On Doe, On Phil (feat. Trae The Truth)
14. Light Em Up (RIP Doe B) (feat. Pharrell & WatchTheDuck)
15. Let Your Heart Go (Break My Soul) (feat. The-Dream)
16. Sugar Cane
17. I Don't Know
18. You Can Tell How I Walk (feat. Rick Ross)
© 2014, miixtapechiick. All rights reserved.