Just 2 weeks ago Amber Rose took to instagram to tell her hubby happy birthday with this picture & the caption as follows:
Happy 27th Birthday @mistercap I'll love u forever…. Hope this year is an amazing one for u sweetheart ❤️
Their marital bliss lasted all of 1 year. Amber Rose has recently filed for divorce from her beloved Wiz Khalifa. Rumors have been circulating that Nick Cannon (who recently has become a very separated man from Mariah Carey) may have a lot to do with their downfall.
Muvarosebud took to twitter earlier today to end all speculation & address the talkers. Could this prelude to the notion that Wiz may in fact have been the one cheating?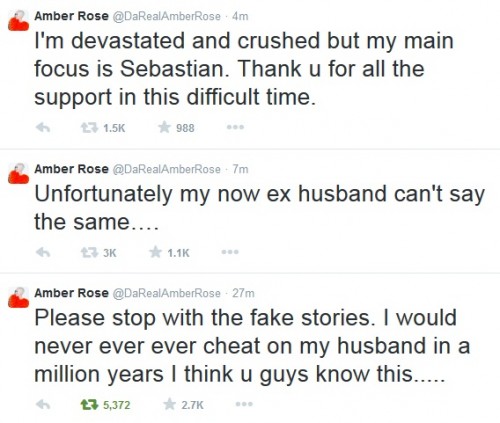 Poor Sebastian. Hate to see your folks go out like this. Comment below with your thoughts & opinions on the situation.
© 2014, Niyah Nel. All rights reserved.