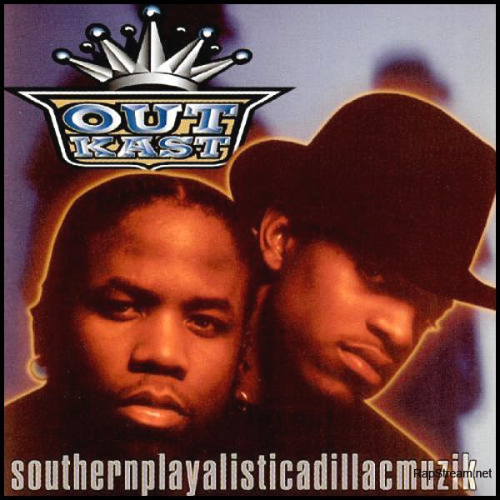 Southernplayalisticadillacmuzik, OutKast's debut album, was released 20 years ago this past Saturday. The album not only introduced themselves to the world, but impacted hip hop as a whole. Myspace caught up with Big K.R.I.T, B.o.B, Bubba Sparxxx, David Banner, Gangsta Boo, Rittz, Trae Tha Truth, and Freddie Gibbs to reflect back on the now classic album. The crew spoke on each individual track.
Freddie Gibbs on "Peaches": "From the get go, it was jammin', it was some smooth shit out of Atlanta. I had never heard any rappers out of Atlanta so it put me up on their culture and how they move and represented the South. I was all ears and it caught my attention. It was futuristic but it also had that nostalgic sound as well. "Peaches" set a tone for what they were gonna do."
Bubba Sparxxx on "Myintrotoletuknow": "Even though it's the first song to come on, "Myintrotoletuknow" is probably one of my top 10 OutKast songs of all time. The track is just crazy 'cause you were really starting to hear the live basslines and everything you were hearing was like a staple of what Organized Noize as producers were all about. It was about the grooves and you just never heard anything like it. It was just a completely original musical composition."
Big K.R.I.T. on "Ain't No Thang": "Ain't No Thang" is just so funky, man. I think there was a certain amount of aggressive in what they're saying about being in the South.
David Banner on "Welcome To Atlanta (Interlude)": I was living in Jackson, Mississippi at the time I heard this. I'd been to Atlanta before and this was very evocative of Atlanta 'cause there's some specifics to Atlanta, the same as there's specifics to New York compared to L.A. Atlanta was the major city: This was before the big rush and the major groups that brought a billion dollar empire to Atlanta, and OutKast gave that experience of being there to the rest of the world.
B.o.B on "Player's Ball (Original)" : I remember the first time I heard OutKast I was like six years old. I heard that song on the radio and I was singing it all day in kindergarten 'cause I had the song stuck in my head. I'd hear it as I got older and grew up and begin to go through life so when I hear the song now it still takes me back in time to places in Atlanta, like Freaknik, the whole player's scene and the whole mighty hip-hop scene in Atlanta.
Read more here.
© 2014, Julie Aly. All rights reserved.