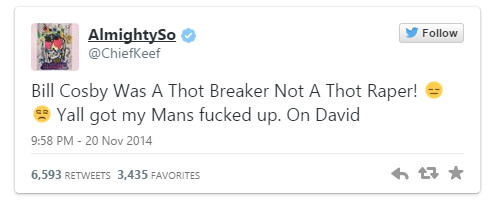 This is almost as relevant as the OJ Simpson trial, if you ask me.. Rape allegations have resurfaced against comedian/actor Bill Cosby earlier this month. 13 women have taken after Andrea Constand & come forth to accuse Cosby of sexually assaulting them as well. Cosby has not made responses towards any of the accusations & refuses to address the situation in any type of interviews, but his lawyer has spoken to some extent:
This situation is an unprecedented example of the media's breakneck rush to run stories without any corroboration or adherence to traditional journalistic standards … It is long past time for this media vilification of Mr. Cosby to stop.
Chicago rapper Chief Keef has chimed in via twitter with his 2 cents on the situation, expressing how he believes that the 77-year old comedian is innocent. The photo above is what Keef has to say about the situation:
Bill Cosby Was A Thot Breaker Not A Thot Raper! Yall got my Mans f*cked up. On David
300/Oblock has spoken..
© 2014, Niyah Nel. All rights reserved.