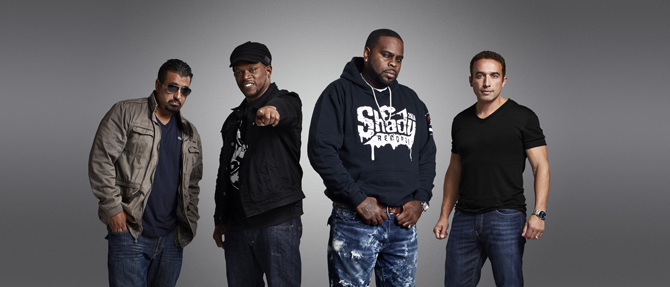 After teaming up for Total Slaughter, Sway and Crooked I come together once more, collaborating with Mike Smith of SMH Records and Sway's Wake Up Show's own DJ King Tech to launch a brand new hip hop competition series titled, One Shot. Read the synopsis and contest rules below.
One Shot is a one-of-a-kind competition show where MCs compete in front of a panel of judges for the ultimate shot at becoming Hip-Hop's next biggest star. Each contestant will have a chance to tell his or her own story, but the best is still determined by artistic skill. The outcome is not about who is likeable, rather who is the best performer with the most talent. Rappers will send video submissions to be posted online and from that 1,000 rappers will be invited to audition in each City. Each week, the show will be broken into three parts, The Audition, The Artist Mentoring, and The Main Event.

The rappers will audition in front of Judges Crooked I, Tech, and Mike Smith, until a final four is picked to compete in the main event for that City.

Before the main event, the four Rappers chosen will work with Jonathan Hay, Mike Smith, Crooked I, and Tech on songs for the main event. These four will write with and mentor each Artists to prepare them for the Main Event.

The Main Event in each City will take place in a famous Hip Hop Venue and will have a live audience including many celebrity VIPs from that local City, Professional Athletes, Local DJs, and other TV personalities.

The Main Event will be hosted by Sway and the final four will compete in from of Crooked I, Tech, Mike Smith, and that week's celebrity Judge. One winner will be chosen from each City and the 8 City finalists will compete in a season finale in Las Vegas. The season finale will also include performances from several of the Season's Celebrity Judges, Crooked I, and also other significant Acts.

These no-holds-barred judges will witness contestants' performances and watch them spit bars on stage along with that city's other talented (or not-so-talented) MCs. Then, they will consult with a team of "peanut-gallery" type rap junkies who lack any filter when it comes to giving their opinions on rappers—those on stage and even those in the game. They will be unabashed (bordering on harsh), and sometimes emotional in their criticism, making the always entertaining, never-ending conversation around rap skills even more compelling.

In addition to seeing their performance on stage and hearing the judges' breakdown on why or why not a contestant is chosen, viewers will see a "background check" segment conducted by famed Hip-Hop journalists Kim Osorio and Kathy Iandoli which spotlights each contestant's story of struggle or inspiration.

This is not a battle; but where Hip-Hop and competition are concerned, there will be embarrassment, and the unpredictable nature of the art form will inevitably lead to drama—elation for some and disappointment for others.

Though all of their stories will be told — some heartbreaking, others uplifting — only the auditions can determine who moves forward. The stories will shed light on the contestants, but in the end, their skill is the only thing that matters.
For more information, click here.
© 2014, miixtapechiick. All rights reserved.