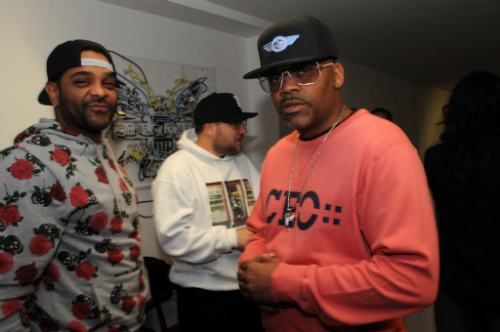 Jim Jones took to his Instagram to call out Dame Dash for being a "culture vulture." The Dipset capo also accused Dame of being a thief calling him a "thief fuck faggot" under a picture he posted of the former Roc-A-Fella founder. It's really unclear why Jim decided to air him out today since they just collaborated in May with Smoke DZA on "Don't Be Scared." Along with the collaboration, Dame has been talking about a Dipset reunion for months. If you recall, Dipset stayed Team Dash when Roc-A-Fella split. In turn, Dame posted a picture of the former friends telling him that he's "always open for discussion as long as we speak as men" before adding, "I have nothing but love for you despite your disrespect."
Before Dame posted the picture of him and Jim, he posted a picture about his wine product. Under that pic, Jimmy wrote "Now it's dusko blue u a faggot n a fraud n a thief fuckin punk but u quick to call and say u aint built for no street shit u a fuckin slut who th real culture vulture." Perhaps Jim was supposed to be part of the wine product and Dame cut him out? Hopefully they can hash this issue out OFF of social media. See both Instagram posts and Jim's comment below.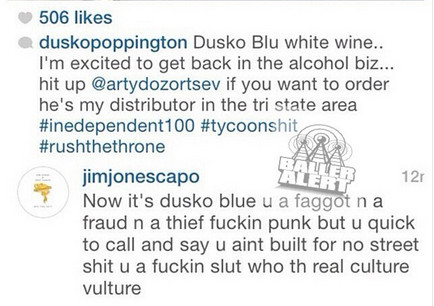 © 2014, Julie Aly. All rights reserved.