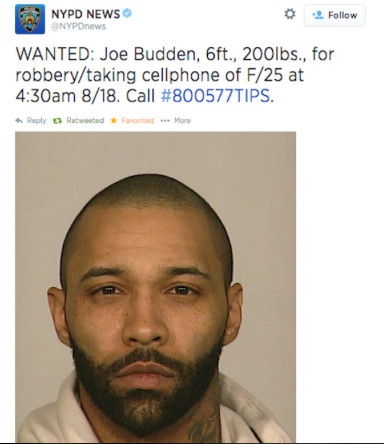 Last weekend, The NYPD posted to twitter that rapper, Joe Budden, is a wanted man with robbery and grand larceny charges against him for allegedly stealing a woman's (his ex-girlfriend's) cell phone. Budden, just as shocked as viewers who saw the post, took to his social networks and teased NYPD with some of his tweets:
Welp, reality has finally set in. Budden turned himself in to NYPD yesterday morning and is facing 3rd degree robbery and 4th degree larceny charges. His ex-girlfriend has also claimed that he physically abused her in the process of stealing her phone during their "fight" in his car.
Budden regrets the tauting tweets and told NBC reporters that cell phone actually belongs to him, however, he's willing to do whatever necessary to rectify the situation and move on.. Can we move on to some new music, possibly?
© 2014, Niyah Nel. All rights reserved.