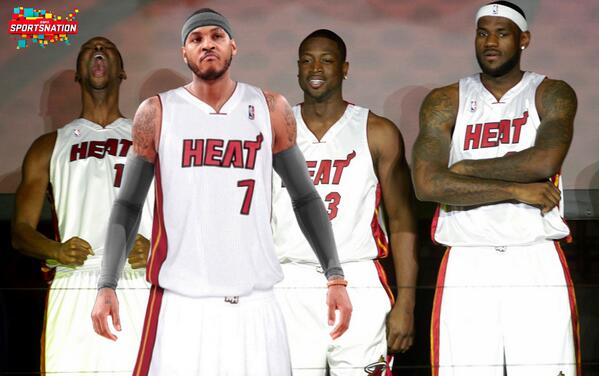 Although the Miami Heat are currently down (2-1) to the San Antonio Spurs in the 2014 NBA Finals, they are still making big news.
With the 2014 free agency period quickly approaching, members of the Miami Heat front office have leaked information that they will try to sign New York Knicks forward Carmelo Anthony if he becomes a free agent. In order to get Melo, Bosh, Wade and Lebron would all have to opt out of their current deals and restructure their deals to make cap room to sign Carmelo.
According to ESPN.com., Anthony must notify the Knicks by June 23 — essentially one week before the start of free agency — whether he plans to opt in or out of the final year of his current contract. Sources say Knicks president Phil Jackson continues to urge Anthony to opt into next season's $23.3 million and put off unrestricted free agency for one more year.
Jackson's pitch to Anthony — which sources say he has delivered more than once over the past month — is founded upon the notion that the Knicks will have increased financial flexibility in the summer of 2015 to make their own run at James or sign another marquee free agent to pair with a re-signed Anthony.
Details are still forming but could you see Carmelo Anthony in a Miami Heat uniform next season.
© 2014, Eldorado2452. All rights reserved.