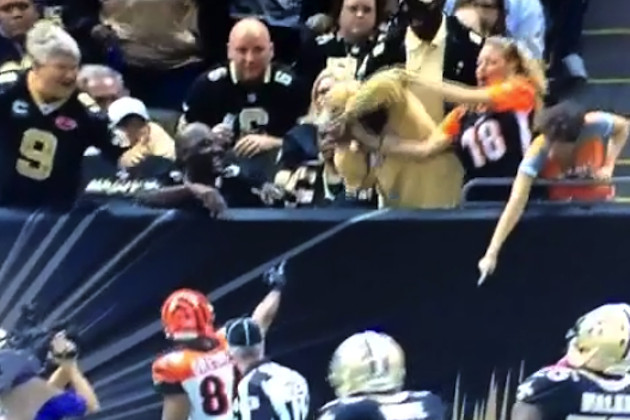 It's a war zone in them stands b!
Earlier today, the New Orleans Saints took on the Cincinatti Bengals. The game was played in the Big Easy, so it's safe to assume the crowd was full of Saints fans.
Well one of the few members of Bengals Nation in the stands thought she was going to walk away with a souvenir today. Those hopes were dashed my an old Black man!
Tight end Jermaine Gresham caught a touchdown pass in the third quarter of Sunday's game in New Orleans, he spotted a Bengals fan in the front row and decided to toss her the football.
She never received the ball, though, thanks to the Saints fan next to her. He snatched the ball and kept it, despite the fact that she pleaded with him to get the ball.
She did receive a game ball from the Bengals as the game ended. She seemed to have no ill will towards the man who is said to have been going to games at the Superdome since it's opened and never got a game ball before.

© 2014, Mehka King. All rights reserved.