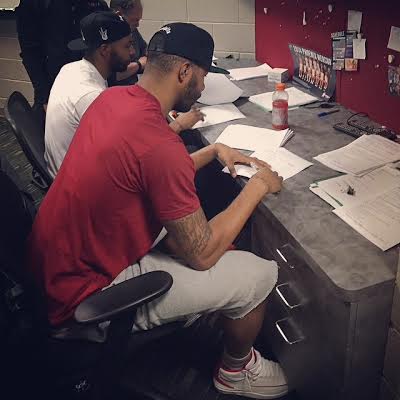 The future is looking very bright for the Phoenix Suns. Today, the Phoenix Suns have singed forwards Marcus and Markieff Morris to new four year deals. Markieff Morris signed a deal for four years and $32 million while Marcus Morris signed a four year deal for $20 million. The Morris Twins are coming off their best years in the NBA.
According to USA Today, the twins were two of the league's most effective players off the bench as Marcus played in all 82 games and averaged career-highs of 9.7 points, 3.9 rebounds, 44.2 percent field goal shooting and 38.1 percent three-point shooting, while Markieff posted career-highs of 13.8 points, 6.0 rebounds and 48.6 percent shooting from the field in 81 games.
Marcus scored in double-digits 42 times in 2013-14, including 18 games with at least 15 points with the Suns going 13-5 in those contests. Marcus twice scored his season-high of 22 points, doing so in the season finale at Sacramento on April 16 and at the Los Angeles Lakers on Dec. 10 when he made a career-high 10 field goals. Against the Lakers on Dec. 23, Marcus made a career-high five three-pointers on just six attempts as he scored 19 points in the Suns' victory. In three career seasons with the Suns and Houston Rockets, Marcus has averaged 8.1 points and 3.5 rebounds in 176 career games.
In 2013-14, Markieff finished fourth in voting for the NBA Sixth Man of the Year and 10th in voting for NBA Most Improved Player as he led the league in points scored off the bench (1,115), double-digit scoring games off the bench (59) and double-doubles off the bench (11). Markieff scored at least 20 points in 18 contests, including in three straight games as he earned Western Conference Player of the Week honors after averaging 22.8 points on 69.8 percent shooting, 8.0 rebounds and 2.0 steals in four games from Nov. 4-10. In three career seasons with the Suns, Markieff holds averages of 10.0 points and 5.1 rebounds in 226 career games.
Congrats to Philly's own Markieff and Marcus Morris on their new deals.
© 2014, Eldorado2452. All rights reserved.