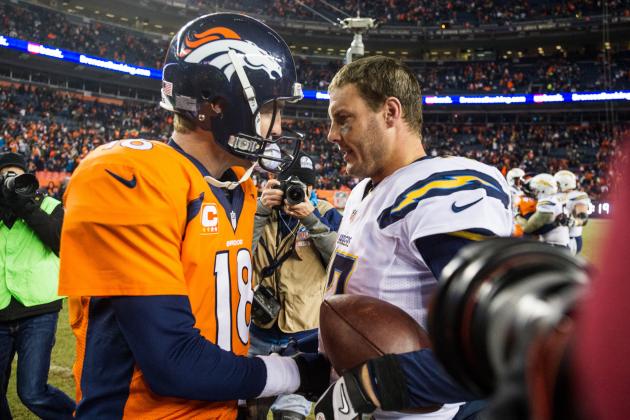 Week 8 of the 2014 NFL kicks off tonight as the (5-2) San Diego Chargers face the (5-1) Denver Broncos. This in the eyes of many NFL fans could be a showdown between two potential NFL MVP's as Peyton Manning and Phillip Rivers go head to head.
The Broncos have come out strong this year and look like they are focused and prepared to compete for another Super Bowl run. The Chargers came out the gate early and they also looking to make a playoff push and possibly bring a championship to San Diego.
I expect tonight's game to be a showdown between two great NFL offenses. Look for Peyton Manning to come out firing and tossing 4 touchdown passes for more then 325 yards. I also expect Phillip Rivers to answer Peyton's performance passing for over 250 yards and 3 touchdown passes. Denver's defense has played well this year and they have the two leading sack leaders (Ware, Miller) heading into week 8. Look for Denver's defense to step up and cause two turnovers assisting the Broncos offense for the win.
Chargers 24  Broncos 35 
© 2014, Eldorado2452. All rights reserved.