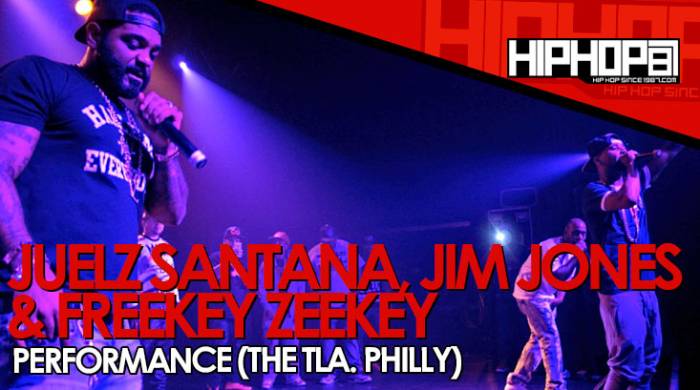 The Harlem Diplomats recently brought their reunion tour to Philadelphia's Theater of the Living Arts and once again put on a one of a kind show. The veteran emcees performed before a full house and made sure to leave fans with a night to remember.
Cam'Ron was conspicuous by his absence but his band of brothers carried on valiantly without him performing a slew of their classics. Juelz Santana set things off with "Crunk Muzik", "Santana's Town", "DipSet Anthem", & "Make It Work For You" while Jim Jones followed up with "G's Up", "Byrd Gang Money", and "Emotionless" with Juelz.
Freekey Zekey kept the energy up with "Henny" and "I Got It For 25" with Sen City, before Jim and Juelz closed things out with "848" and "Pop Champagne".
As always, HHS1987 cameras were on deck to capture the performance. Check it out and be on the lookout for more HHS1987 exclusives.
Checkout our September 2014 exclusive interview with Jim Jones below.
Checkout our September 2014 exclusive interview with Juelz Santana & Freekey Zekey below.
Follow us on Twitter | Instagram
@JimJonesCapo
@TheJuelzSantana
@Freekey730
@HipHopSince1987
@RickDange
© 2014, Dessy Weegar. All rights reserved.