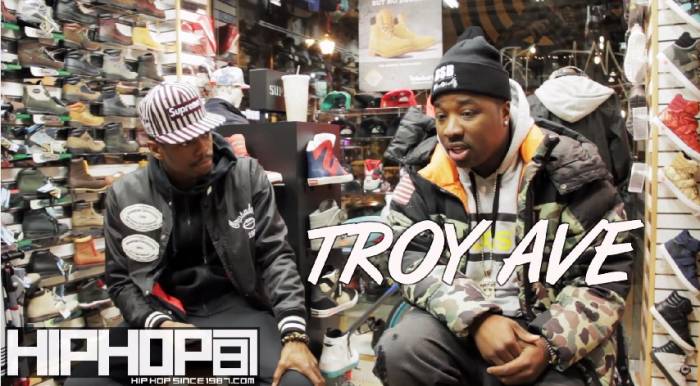 Here is part two of HHS1987's interview with Brooklyn rapper Troy Ave. The burgeoning emcee sits down with HHS1987's E-Money to talk about letting his fans pick his singles, his ideal label situation, working with Philly artists, and his organic effort to bring New York Hip-Hop back.
"I ain't trying to be independent, like, forever," Troy confessed of his current status as an unsigned artist. "[We're] independent right now because we ain't have no choice. […] I'm [going to] grind hard and cash in. You don't want to be the nicest nigga on the basketball court in your hood; you want to go to the NBA."
Troy Ave went on to discuss his adherence to "bringing New York back" before the phrase gained popularity as a buzz term or gimmicky angle to promote music.
"[Rappers] want to bring New York back now because I started that," he stated. "I ushered that shit in. In 2012, before the Trinidad James shenanigans, before the Kendrick Lamar 'Control' verse, I said 'I'm gonna name my album New York City: The Album'. So this ain't no marketing or gimmick or ploys to try to surf that wave. Troy Ave said that and Troy Ave did that. I'm the only reason that niggas even getting played on New York radio coming up. I set that shit off."
Check out the second segment of our interview below, be sure to check back for part three next week, and be on the lookout for more exclusive content that you can only find here on HHS1987.
This video was shot by HHS1987's Rick Dange.
Watch part one below.
© 2014, @BWyche. All rights reserved.