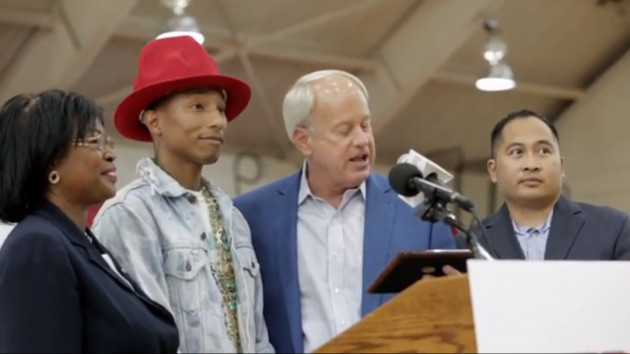 Congrats to a personal hometown hero of mine Pharrell Williams for receiving the key to the city from Virginia Beach during his 'From One Hand To Another' initiative ceremony at his alma mater Princess Anne High School!
Pharrell Williams returned home to Virginia Beach on Saturday, June 7, 2014 and spent the day encouraging local students in his From One Hand to AnOTHER program and his alma mater Princess Anne High School to make their dreams reality.

Pharrell was honored at Princess Anne High School homecoming event where he announced FOHTA's partnership with Everfi, which will provide digital learning opportunities for students taking part in FOHTA's Summer Innovation Camp. Pharrell spoke on the importance of education, urging kids to "Pay Attention." He honored his teachers, credited them with his achievements, in particular his Band Teacher Alan Sharps, who was in attendance. Pharrell also called for higher wages for teachers and pay equality between women and men teachers.
© 2014, @quinelleholder. All rights reserved.