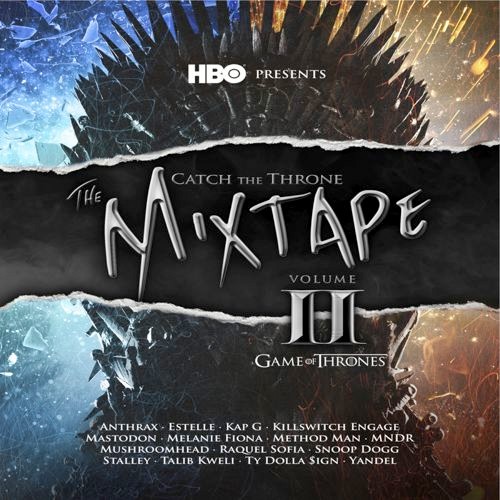 The first installment received such good feedback that HBO has decided to continue on the Catch The Throne mixtape serious inspired by the ongoing series "Game of Thrones". Each record featured on the tape samples a part of the Game Of Thrones 4 soundtrack. Hip-Hop icons like Method Man, Talib Kweli, & Snoop Dogg lend their voices for the project. Artists such as Melanie Fiona, Ty Dolla $ign, Estelle, & Stalley are featured as well.
See below for the track listing & album stream.
01 Method Man – The Oath
02 MNDR – Run for Cover
03 Ty Dolla $ign – Never Back Down
04 Killswitch Engage – Loyalty
05 Kap G – Surrender Now
06 Melanie Fiona – Fight Through It
07 Snoop Dogg – Lannister's Anthem
08 Yandel – Marcando Territorio
09 Anthrax – Soror Irrumator
10 Estelle – Let Me Go
11 Talib Kweli – Lord of the Light
12 Mastodon – White Walker
13 Raquel Sofia – Legends
14 Stalley – All Mine
15 Mushroomhead – Among the Crows​
Available for free purchasing via iTunes.
© 2015, Niyah Nel. All rights reserved.