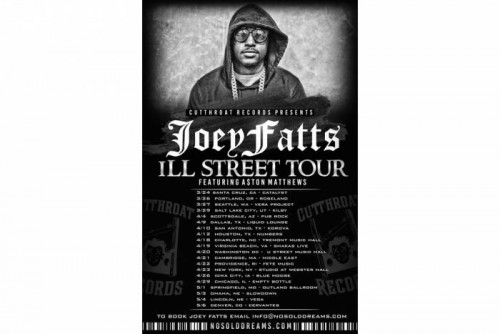 On the heels of his A$AP Yams tribute "Stevie World" Cutthroat Record's Joey Fatts announces he's heading out on a Nationwide tour to support his upcoming Ill Street Blues EP, which drops March 9th. Fellow Cutthroat squadron A$ton Matthews will join Fatts on tour and more dates are being added. To book Joey, hit up [email protected] and come correct with the paper.
When speaking on the tour, he said,
"All I have ever wanted was to inspire people and perform my music live," said Fatts in an exclusive statement to XXL. "To me, this is the best part of the creative process. As an independent artist this is when all your work shows and you feel the love from your supporters. I'm ready to kill it, if you been to a Joey Fatts show you know it gets crazy… crowd surfing mosh pits and mad weed. I like to party so I'm ready to get lit, going hard every show for my brother Yams like he would have liked me too."
© 2015, DukeLondon. All rights reserved.