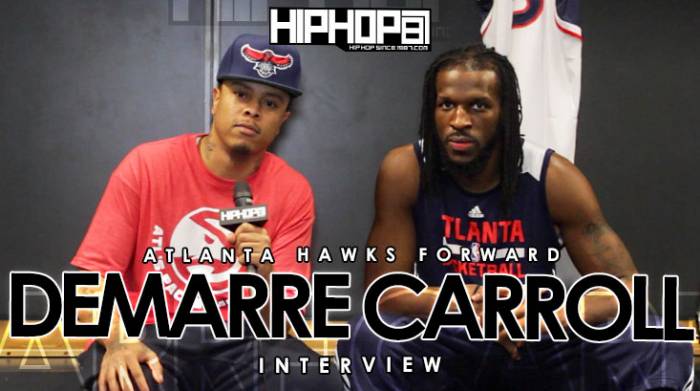 Recently, HHS1987 caught up with Atlanta Hawks forward Demarre Carroll to discuss the 2014-15 NBA Season, the Hawks recent 19 game winning streak, Coach Bud's impact on the team and more.
The Atlanta Hawks have been the surprise of the 2014-15 NBA season and now that the Hawks have the best record in the Eastern Conference, people are slowly starting to believe the Hawks are for real. HHS1987's Eldorado sat down with Demarre Carroll to get the inside scoop on the Hawks success and how Coach Budenholzer's philosophy has turned this team into NBA championship contenders.
Demarre Carroll spoke to us bout his journey to the NBA and how that road has helped him appreciate this season with the Hawks. The Hawks owned the month of January, setting an NBA record going (17-0) in the month and receiving the honor of their entire starting five being named Eastern Conference players of the month. Demarre give us some insight on the month of January from the Hawks point of view as well as what it will take for the Hawks to bring a Championship to the city of Atlanta.
As the Hawks continue to gain respect for playing team ball, Demarre spoke on the Hawks unselfishness and their big matchup tonight (Feb.6th) against the Golden State Warriors.  For the first time since 1999 two teams with less than 10 losses on their record this late in the season will meet. Demarre discussed facing Golden States backcourt of Stephen Curry and Klay Thompson and what a win against Golden State would mean for the remainder of the Hawks season.
We also took a moment to talk to Demarre about his life off the court. Demarre is a huge sneakerhead and he has a deep love for the world of fashion. Demarre has opened an online boutique "HypezATL.com" where he brings some fashion for around the world to one central location. Looking to open a store in Atlanta soon, Demarre expressed his love for fashion and ensured us that our next interview will have to take place in his sneaker room.
The interview was conducted by HHS1987's Eldorado. The interview was shot by HHS1987's Brian Da Director.
Follow On Twitter/ Instagram:
@DeMarreCarroll1
@HypezATL
@Eldorado2452
@HipHopSince1987
@BrianDaDirector
© 2015, Eldorado2452. All rights reserved.