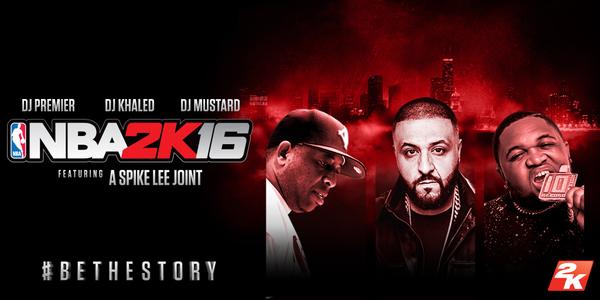 This here should be great. As if the anticipation for the popular 2K Sports NBA video game "NBA 2K16" wasn't already huge, it may have just gotten bigger. In the mist of a busy 2015 NBA free agency period, 2K Sports has recruited three of the hottest DJs/producers in hip-hop today to come together and create the soundtrack for "NBA 2K16".
#NBA2K16 will feature 3 genre-defining artists at the helm for its soundtrack @djkhaled @DJmustard @REALDJPREMIER! pic.twitter.com/sZpw3L7XwI

— NBA 2K 2K16 (@NBA2K) July 9, 2015
According to gamespot.com,
2K Sports on Thursday announced the first details for NBA 2K16's soundtrack, which the developer is calling the biggest and "most extensive" in the history of the professional basketball franchise. Songs on the soundtrack will be chosen by producers DJ Premier, DJ Khaled, and DJ Mustard.

The NBA 2K16 soundtrack will include more than 50 songs, including six songs that will be "exclusive" to the game. All manner of genres will be represented, including hip-hop, electronic, pop, rock, and alternative. There will be classic tracks from the '70s all the way through to Top 40 hits from today.

Confirmed songs so far include:

"Blitzkrieg Bop" — The Ramones
"Represent" — Nas
"I Want You to Know — Zedd (feat. Selena Gomez)

NBA 2K16's soundtrack will be divided into six in-game playlists. Three lists are curated by each of the three producers, while another will be an international-themed "Around the World" playlist. There will also be a 2K Classics Mixtape featuring "fan favorites" from past games. And finally, a "master playlist" will feature all 50 songs from NBA 2K16's soundtrack.

What's more, DJ Khaled, DJ Premier, and DJ Mustard are contributing new instrumental tracks for the game's MyPlayer and MyGM modes.
NBA 2K16 is due to hit stores on Sept. 29th. Stay tuned to HHS1987 for all your sports and tech news.
© 2015, Eldorado2452. All rights reserved.