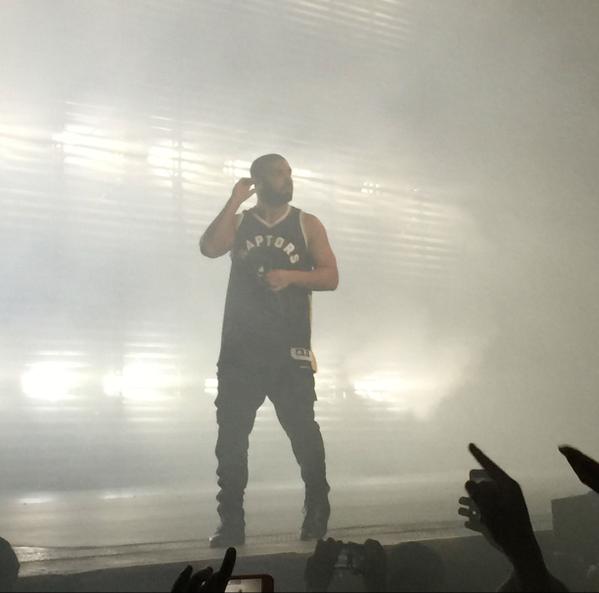 While most of the world is watching the rap feud between hip-hop artist Drake and Meek Mill, the Toronto Raptors used the platform to give fans a early preview of their new 2015-16 uniforms.
Tonight during Drake's OVO Fest set tonight, the Toronto native debuted the teams new alternative jersey as we performed some of his latest hits.
With the help of @Drake @ #OVOFest & @NBA2K, #Raptors reveal 2015-16 Uniforms. Images & More: http://t.co/XvoRmNiMId pic.twitter.com/GBPE9m40zx

— Toronto Raptors (@Raptors) August 4, 2015
According to NBA.com,
The Toronto Raptors, in partnership with NBA 2K16, announced Monday four new uniforms that will be worn with the start of the 2015 preseason. In a new and unique unveil posted at www.raptors.com/uniforms, NBA 2K16 created graphics of Raptors players in game action wearing the new uniforms.

The new look pays tribute to the City of Toronto as well as being the lone Canadian club in the National Basketball Association. The main colours will remain centred on Canada's national colours of red and white. Black and silver will continue to be used for trim on the home white and red road uniform. The club will also sport two alternate black uniforms. A version with red, silver and white trim will return, joined by a special alternate featuring gold and white trim.

Raptors Global Ambassador Drake unveiled a Cory Joseph alternate black jersey with gold and white trim during his OVOFest concert tonight at Toronto's Molson Canadian Amphitheatre. Joseph, a native of the Toronto area who joined the club as a free agent in July, will wear number six to honour his Toronto roots

Jersey:

The chevrons on the side of the jersey will now point "north" to align with our slogan of "We
The North." The chevrons had pointed downward since being introduced as a uniform
accent in 1999.
The fonts are accented with silver lining, a throwback to our past.
Player names on the back will now be arched rather than straight across.
At the waist-level hem of the jersey is an upside-down tag with our "We The North" slogan.
It will be visible to players when they tuck in their jersey, and will serve to remind them of
what they represent.
Engineered mesh finish with a subtle design to emphasize a more aerodynamic feel that
follows the contours of the body.
Shorts:

The front of the waistband dons a Maple Leaf, incorporating our new look and feel with the
symbol of our nation.
The shorts have a shout-out to Toronto, sometimes referred to as the "T Dot." "T.O." is
stitched on the side with our new logo representing the "O."
Checkout more details on the Toronto Raptors new uniforms here and stay tuned to HH1987 for all your sports new.
© 2015, Eldorado2452. All rights reserved.