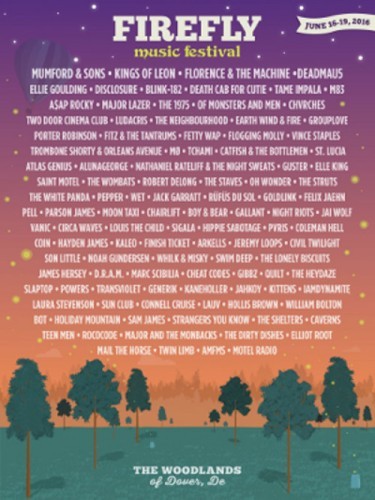 We just departed from Summer '15, & the music culture is already in talks of whats to come next year when festival season comes back around.
Firefly, one of the more urban-based festivals that may be amongst conversation with the likes of Bonnaroo, Coachella, Lollapalooza, & more, is today's topic with a few high-profiled artists they named to touch the stage during 2016's show dates.
We can expect to see A$AP Rocky, Disclosure, Fetty Wap, Goldlink, Earth, Wind, & Fire, Major Lazer, Ludacris, Vince Staples, D.R.A.M., & more during the 4-day festival, which will take place in Dover, Delaware.
Firefly Festival is of the first to drop next years lineup, & the mixture of genres & cultures only helps the standout effect impact more upon its debut.
Consequence of Sound, amongst many other publications predict Paul McCartney to be the last-named artist to close the show, & judging from this massively diverse line-up, that could very likely happen. We'll have to wait until we get closer to the show dates, June 16-19, for more details to surface.
© 2015, Niyah Nel. All rights reserved.