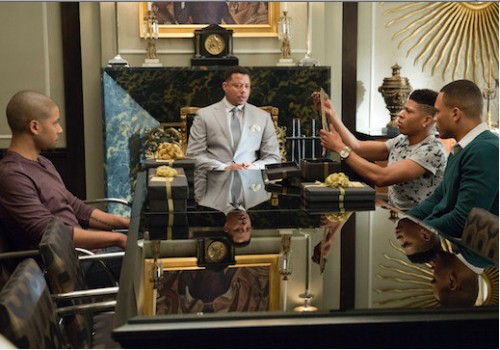 Ratings baby, ratings. FOX's hit series (emphasis on the word "hit") "Empire" hasn't had any problems in THAT department all season long. During last night's season finale, viewership hit a whopping 16.5 million, doubling last weeks viewership & setting the record. With all the drama that was jam-packed into the 2-hour closing, these stats should come as no surprise.
Now, fans of the show are left in suspense as to what will come next for "The Empire," the family,  & what will be the fate of the devil himself, Lucious Lyons.
Deadline reported on last night's season finale ratings:
There were resolutions, successions, music and arrests on the 2-hour Season 1 ender of the hip hop drama last night. And for the 10th week in a row since its January 7 debut, Fox's Empire (6.4/20) hit a brand new viewership high of 16.5 million. That's up 11% from the 14.90 million that the Lee Daniels, Danny Strong, Ilene Chaiken, Francie Calfo and Brian Glazer EP'd series drew on March 11. Empire also had another new record among adults 18-49 with a 10% rise over last week's 5.8/17, which was tied with the drama's March 4 show for the previous all time high. The 8 – 10 PM finale was also up an amazing 68% jump over the 18-49 rating of its debut and rose 67% over the 9.90 million who tuned in for that first show of the 12-episode season.
Season 2 is confirmed. The show is a huge success, so huge, that it's already been spoofed by "Saturday Night Live." I think that speaks all the volume needed.
© 2015, Niyah Nel. All rights reserved.