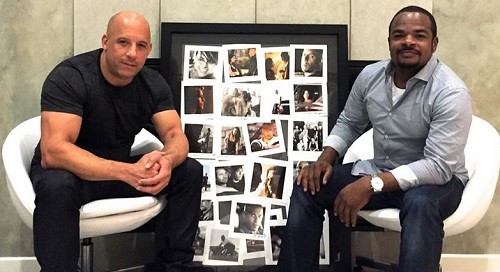 Clearly N.W.A. aren't the only one's with attitude, Director F. Gary Gray is out to get this money & break the pavement yet again. It's been confirmed that he is now in negotiations with Universal to work together on the next Fast & Furious project, which will be the 8th. Gray's 'Straight Outta Compton' biopic raked in a whopping $160 Million in the USA. Those numbers obviously cannot be denied, & reportedly helped influence the decision of Universal's choice to pick him over many other high-profiled directors.
As told by The Hollywood Reporter:
The search for a director was necessary after efforts to convince Furious 7 director James Wan to return for No. 8 proved unsuccessful. The search went public after THR reported on the difficulty in finding a director and star, and Furious producer Vin Diesel took to Facebook to plug both himself and Rob Cohen, who directed the 2001 original movie, as possible candidates. On Monday, Gray met with Diesel, who does not have director approval rights but is consulted on all major decisions involving the franchise. After the meeting, Diesel posted a photo of himself with a smiling Gray on his Facebook page. The duo were posed in front of numerous Fast and Furious images.

In Gray, Furious 8 is getting a filmmaker who can juggle intense, over-the-top action sequences with some of the intense, over-the-top personalities working in front of the camera. That includes Diesel, who worked with Gray on 2003's action drama A Man Apart. Gray's credits include thrillers and action movies such as The Italian Job, The Negotiator and Law Abiding Citizen.

This summer's Compton was a passion project years in the making. The movie opened to strong reviews, and audiences followed, to the tune of over $160 million domestically.

Gray is repped by UTA and Principato Young. Diesel's post is below.
Stay tuned for more details as they surface!
© 2015, Niyah Nel. All rights reserved.