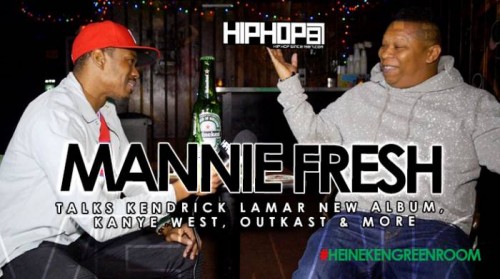 HHS1987's EMoney sits down for an exclusive interview with the legendary DJ & producer, Mannie Fresh at the Heineken Green Room event at The Dolphin Tavern in Philadelphia. Mannie Fresh talks about the artists that's currently sticking out. He mentions Kendrick Lamar, and his reasons for why he is sticky out. He states this is a compliment when he says "I think Kendrick must of fucked Erykah Badu or something, cause she change everyone that fuck with her. And Andre (3000) had some laced weed that he forgot was at her house, and he (Kendrick) got a hold of that shit, and now you got this new Kendrick Lamar album." He explains that he is built on underground and old school music, including the old Kanye West music, and Outkast debut album. The full interview with Mannie Fresh will be released soon.
Follow us on Twitter | Instagram
@MannieFresh | @DJMannieFresh
@Heineken
@HipHopSince1987
@EMoneyBeatz | @BeatEmUpMoney
@RickDange
© 2015, @BWyche. All rights reserved.