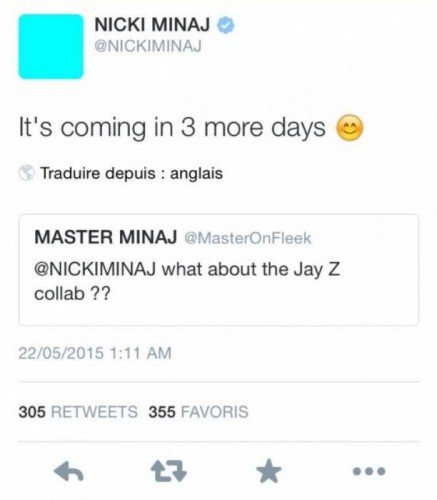 Nicki is on a roll right now & getting in good with The Carter's was probably one of the smartest moves she's made within her career thus far. After stirring up noise by dropping the video to her Beyoncé assisted cut, Feeling Myself & then following up with another exclusive by dropping her The Night Is Still Young video via TIDAL, Nicki took to her Twitter account to relay a some incredible news to her fans.
After being questioned on a possible Jay-Z collaboration via Twitter, Nicki Retweeted the initial tweet adding her comment "in 3 more days". Of course she soon deleted the tweet, but not before the news went viral. First Nicki & Beyonce.. Now Nicki & Jay-Z. If this really does happen, YMCMB's first lady will make Hip-Hop history. Let's see if that record really does surface. May 25th is 3 long days away!
© 2015, Niyah Nel. All rights reserved.