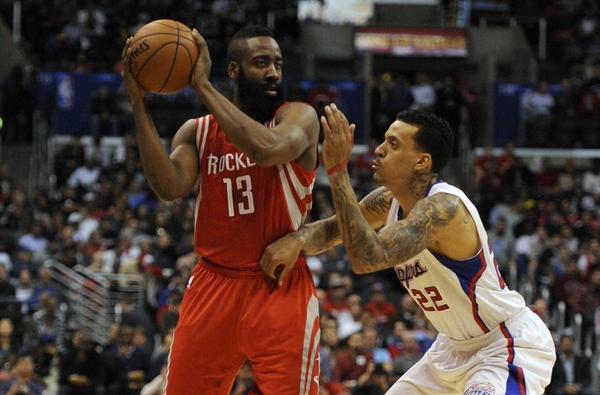 Sports can be the most competitive event on the planet but somethings are just uncalled for. During Game 2 of the Los Angeles Clippers and Houston Rockets meeting in Hosuton, Clippers "tough guy" Matt Barnes engaged in a war of words with a woman we later found out was the mother of James Harden and now it's time to pay up!
After use harsh language toward Harden's Mom, the NBA has fined Matt Barnes $50,000. Yeah, your reading that right, $50,000. According to ESPN.com,
Barnes said earlier Friday he was simply responding to remarks made toward him and didn't know he was making them at Harden's mother until afterward.

"We've made our peace," Barnes said. "We've spoken twice since the incident. She said something and I said something back. I've heard speculation to what I allegedly said, which is crazy and untrue, but it is what it is. They're trying to start controversy. She said something and I said something back. I spoke to her at halftime and I spoke to her after the game and we're fine."

Clippers coach Doc Rivers spoke to Barnes about the incident before Friday's shootaround, and Barnes said he hoped to put the situation behind him. 

"What I said was said and what she said was said. No matter what was said, we both said something," he said. "I got a tongue lashing from Doc this morning, and we've made our peace, and I'm ready to play basketball."

Harden spoke about the incident to reporters Friday morning. 

"In any situation when you're talking about somebody's parents it's disrespectful," he said. "I'm focused on Game 3, and we're focused and locked in. It's going to be some great intensity tonight."
I'm not looking for a fight tonight but I know if Barnes made a comment to my Mother in that manner it would be a flagrant foul coming his way in Game 3. Game 3 of the Clippers/Rockets series tips around 10:30 EST tonight. The series is tied (1-1). Stay tuned to HHS1987 for all your sports news.
© 2015, Eldorado2452. All rights reserved.