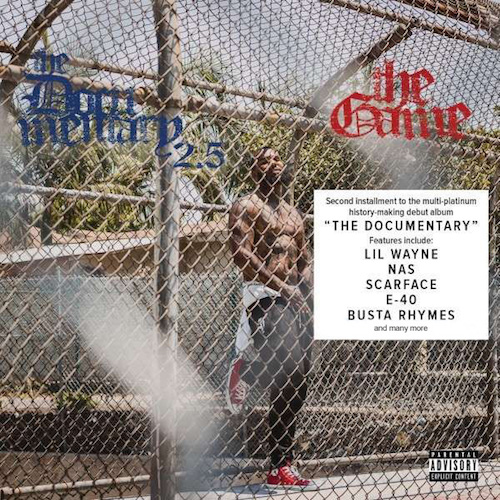 The Game is releasing his album The Documentary 2.5 soon as a double-disc, which is almost unheard of nowadays, of course record sales are to blame for the almost depletion of the concept. Nontheless, Compton's own already released the artwork for the first disc The Documentary 2 and today he liberates the cover to the second album which will be dropping a week later. The Documentary 2 is set for release this Friday and 2.5 on October 16th which will feature guest appearances from Nas, Scarface, E-40 and Busta Rhymes, ScHoolboy Q, Jay Rock, Ty Dolla $ign, Problem, Anderson .Paak, Jay 305, YG, Skeme, basically everyone making noise from the left coast.
Check out the tracklist below.
01. New York Skit
02. Magnus Carlsen (feat. Anderson .Paak)
03. Crenshaw/80s and Cocaine (feat. Anderson .Paak & Sonyae)
04. Gang Bang Anyway (feat. Jay Rock & ScHoolboy Q)
05. The Ghetto (feat. Nas & will.iam)
06. From Adam (feat. Lil Wayne)
07. Gang Related (feat. Asia)
08. Last Time You Seen (feat. Scarface & Stacy Barthe)
09. Intoxicated (feat. Deion)
10. Quik's Groove (feat. DJ Quik, Sevyn Streeter & Micah)
11. Outside (feat. E-40, Mvrcus Blvck & Lil E)
12. Up On the Wall (feat. Problem, Ty Dolla $ign & YG)
13. Sex Skit
14. My Flag/Da Homies (feat. Ty Dolla $ign, Jay 305, AD, Mitch E-Slick, Joe Moses, RJ & Skeme)
15. Moment of Violence (feat. King Mez, Jon Connor & JT)
16. Like Father Like Son 2 (feat. Busta Rhymes)
17. Life
© 2015, Oktane. All rights reserved.