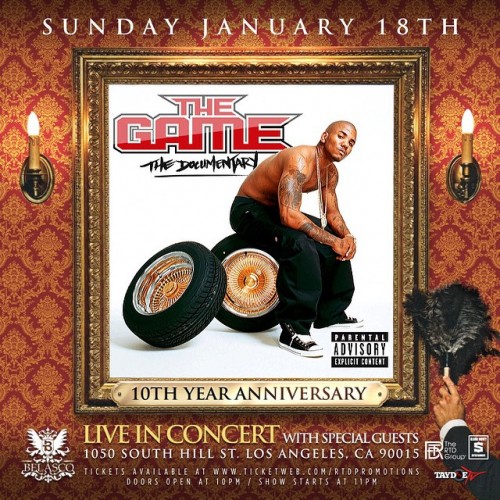 It's almost hard to believe that so many classic albums from the early 2000's are now reaching their 10-year milestone. The Game is up next to indulge in the anniversary of probably his most classic album, The Documentary, which was released January 18th of 2005.
To celebrate the success of the project, Game will hold a concert in Los Angeles with a few special guests.
He expressed his views on 50 Cent & the G-Unit reunion in an interview with Big Boi of Power 106 Los Angeles back in June, so we're aware that everyone has moved on from that situation. However, don't get your hopes up to see any of those guys on the roster of performers, although that would be pivotal.
An official statement was released on the event by The Game himself with the announcement of the concert:
Los Angeles: This is the 1st & only time I will ever do this in my career in my city…. ONE NIGHT ONLY…. January 18th marks the 10 Year Anniversary to my Classic Album #TheDocumentary which dropped January 18th 2005…. and I will be having a 10 Year Anniversary concert Sunday January 18th !!! Performing The Documentary in its entirety w/ Special guests and surprises. You do not want to miss this shit !!! No work or school on Monday due to the Martin Luther King holiday so you know we can get turnt up Sunday night !!!! Tickets on sale now! www.ticketweb.com/rtdpromotions
– The Game
Hopefully we'll get details on the performers as we approach the concert date. We'll fill you in on further details as they are revealed.
© 2015, Niyah Nel. All rights reserved.