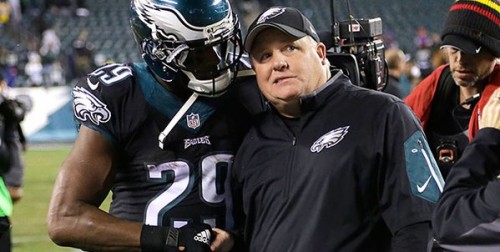 Just when things started to look good for the Philadelphia Eagles, more reports are forming about players being frustrated with Chip Kelly and his system, this time it being the Eagles big offseason pick up.
Eagles running back DeMarco Murray's role with the Eagles hasn't been what many Eagles fans thought it would be after preseason play and his frustration with his role in Chip Kelly's offense.
Source: #Eagles DeMarco Murray addressed frustrations with role in Chip Kelly offense with owner Jeffrey Lurie. Doesn't want to cause scene

— Ed Werder (@Edwerderespn) December 8, 2015
According to ESPN,
DeMarco Murray's confusion and frustration over the lack of playing time and how he fits into Chip Kelly's offense prompted the running back to have a lengthy conversation with Philadelphia Eagles owner Jeffrey Lurie following Sunday's game, sources told ESPN.

The 2014 NFL rushing champion with the Dallas Cowboys, Murray doesn't want to be a distraction — especially after the Eagles beat the New England Patriots for the team's biggest victory of the season. Murray, however, played on just 14 offensive plays, gaining 24 yards on eight carries.

"He's obviously upset about what happened," a source close to Murray said

Murray has struggled from the beginning in Kelly's offense. He was recruited as a downhill runner but Kelly's system has required him to frequently run laterally and his production has plunged. He has rushed for 569 yards on 163 carries and four touchdowns this season, averaging just 3.5 yards per carry.

In addition, Ryan Matthews could return after missing the past three games with a concussion. His availability could further reduce Murray's role.

Kelly has not yet identified a starter at the position for Sunday's game against the Buffalo Bills.
Just when I think the Eagles are shaping into form to make a strong push toward the playoffs, this happens. Stay tuned as more details surface.
© 2015, Eldorado2452. All rights reserved.