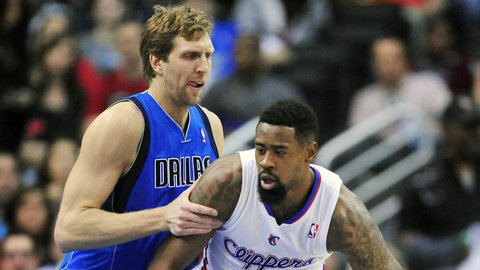 The Dallas Mavericks have picked up two of the biggest free agents on the market. Mark Cuban made a huge splash signing both former Clipper DeAndre Jordan and former Portland Trailblazer Wes Matthews making the Mavs a possible threat in the western conference next season.
According to ESPN, 
The chance to be featured as the Mavericks' new franchise player and return to Texas after playing at Texas A&M in college, sources say, is leading Jordan to leave the Clippers, with whom he consistently has been cast as a third wheel behind L.A. stars Chris Paul and Blake Griffin.

"We think he is going to be our best player for years to come," Mavs owner Mark Cuban told ESPN.com via CyberDust. "A franchise player for the rest of his career."

In their pitch to Jordan earlier this week, the Mavericks included recorded messages from Dallas Cowboys owner Jerry Jones and star wide receiver Dez Bryant, playing to Jordan's well-known fandom of the Cowboys and Bryant in particular.

Matthews' commitment to the Mavericks, says Matthews will receive a four-year deal from Dallas. Sources told ESPN.com the official figures remain in flux until Dallas' respective pursuits of marquee free agents DeAndre Jordan and LaMarcus Aldridge play out.

Matthews' looming deal with Dallas can't be signed until July 9, when a leaguewide moratorium on roster business is lifted.
Stay tuned to HHS1987 for all your 2015 NBA free agency moves.
© 2015, Eldorado2452. All rights reserved.