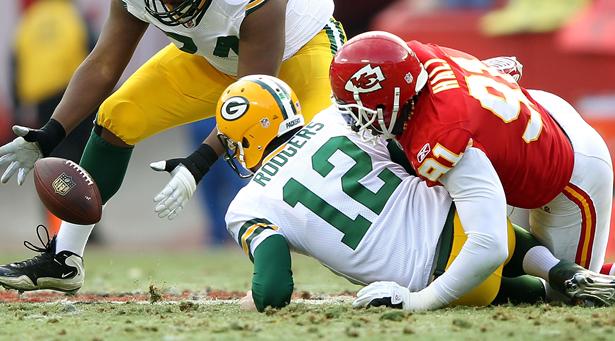 We have almost seen a quarter of the 2015 NFL season as week 3 comes to an end this evening at Lambeau Field. Tonight, Alex Smith and the (1-1) Kansas City Chiefs march in to Wisconsin to face the (2-0) Green Bay Packers and quarterback Aaron Rodgers in what should be a high scoring affair.
The Packers are off to a good start after losing wide receiver Jordy Nelson in the preseason under this guidance quarterback Aaron Rodgers and tonight that offense could be up for test against the Chiefs defense. Look for Aaron Rodgers to pass for over 280 yards tonight with 3 touchdown pass and 30 yards rushing. The Packers running game will also account for 150 yards on the ground and a touchdown earlier.
The Chiefs are my Super Bowl pick in the AFC this season and I believe they display why tonight. Alex Smith will finally pass the ball to a receiver in the end zone (Maclin) bringing a end to a streak that is over 19 weeks old and Smith will pass for over 320 yards. Running back Jamaal Charles will show us all why he is the best all around back in the league rushing for 2 touchdowns and receiving one as well.
I expect this to be an extremely entertaining game with the visiting team coming out on top!
Chiefs 36  Packers 33 
© 2015, Eldorado2452. All rights reserved.