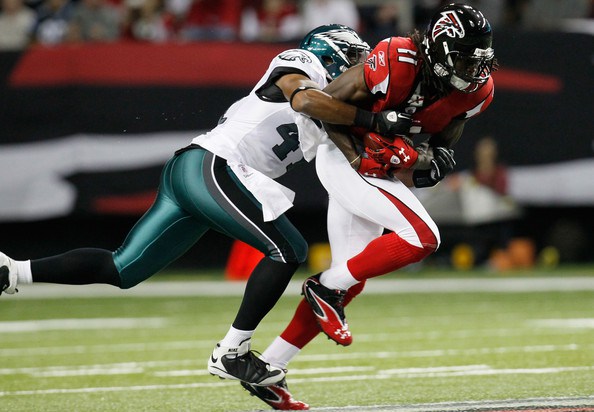 The Georgia Dome will certainly be rocking tonight. ESPN's Monday Night Football kicks off tonight with a doubleheader starting in Atlanta as the Atlanta Falcons host the Philadelphia Eagles.
This game is special for me being that I'm a Philly native and Philadelphia Eagles fan yet I live in Atlanta so I cover the Falcons often and I'm very much in tune with what their program has been doing the past five seasons. The Falcons are entering a new era with new head coach Dan Quinn and the Eagles are entering their third season under Chip Kelly but there are 11 new starters for Philadelphia this season.
Falcons head coach Dan Quinn was previously the defensive coordinator for the Seattle Seahawks so its safe to say he is a defensive specialist. Although Quinn may have a great game plan prepared, I'm unsure if he has the players to play his style of defense yet. The Falcons have a high powered offense and can score with the best of them but we have yet to see what this new look Eagles defense will actually look like. The Falcons will play two young running backs in there backfield so I exact them to rely on their passing game tonight if they want to win.
The Eagles as mentioned are starting 11 new starters including new quarterback Sam Bradford who will play his first game since October 12, 2013. With the addition of running backs DeMarco Murray and Ryan Mathews, look for the Eagles to run the ball at a high pace to keep the Falcons defense off guard. Despite the new look for the Falcons, I expect Chip Kelly and the Eagles to make a huge statement on Monday night football tonight. Philadelphia is (3-0) on Monday night under Chip Kelly and I see that extending tonight.
Look for the Eagles running game to rush for 3 touchdowns tonight and for Sam Bradford to pass for three touchdowns as well. The Falcons offense will look good early but they won't be able to match touchdowns with the Eagles and the game could get ugly early.
Eagles 42  Falcons 20 
© 2015, Eldorado2452. All rights reserved.