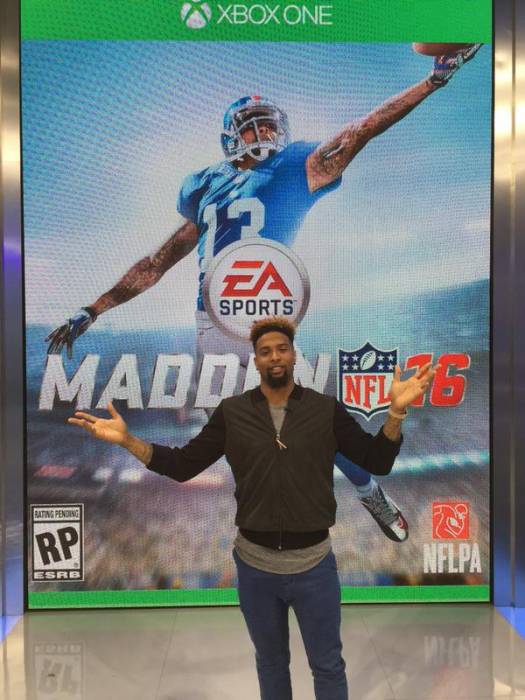 Can New York Giants wide receiver Odell Beckham Jr. do anything else in his young career. After being named the 2014 NFL offensive rookie of the year, Odell Beckham Jr. has been voted as the 2015 Madden cover man and he will cover EA Sports popular video game "Madden 16" this season.
According to ESPN, 
Beckham won a fan vote for the annual honor, beating out New England Patriotstight end Rob Gronkowski, Pittsburgh Steelers wide receiver Antonio Brown and Arizona Cardinals cornerback Patrick Peterson. Beckham and Gronkowski were announced as the two finalists from among the initial four earlier this week.

At 22, he is the youngest player ever featured on the Madden cover. Vince Young was 24 when he was on the cover of "Madden NFL 08," which was released in August 2007.

Fans sometimes express concern about their favorite player landing on the Madden cover due to the fabled "Madden curse." Several players, including Adrian Peterson, Peyton Hillis and Brett Favre, have struggled in the seasons in which they were on the cover. And in the decade previous to this one, players such as Marshall Faulk, Michael Vick, Ray Lewis, Donovan McNabb and Shaun Alexander suffered serious injuries in their cover seasons.

However, fans who believe in the curse have reason to think Beckham might be immune. He's the third wide receiver to earn the honor, and the previous two had strong seasons when they were on the cover. Arizona's Larry Fitzgerald had 97 catches for 1,092 yards and 13 touchdowns and made the Pro Bowl during the 2009 season after appearing on the cover. And Detroit's Calvin Johnson had his best season in 2012 when he was on the cover, catching 122 passes for a league-record 1,964 receiving yards.
With Beckham Jr. on the cover of "Madden 16", now Giants fans will be hoping the Madden curse is unreal! Stay tuned to HHS1987 for all your sports news.
© 2015, Eldorado2452. All rights reserved.