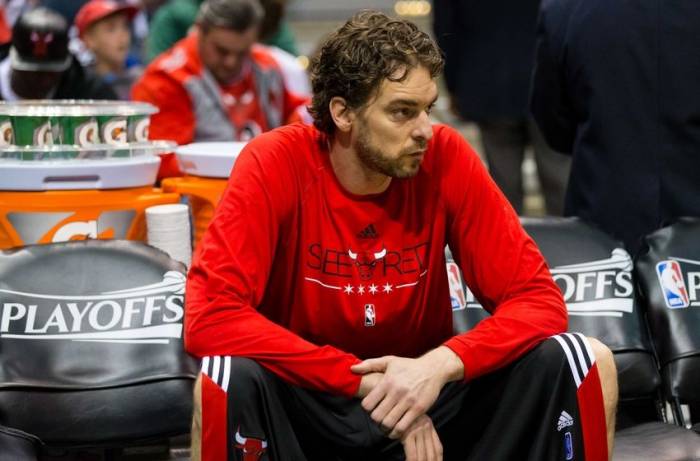 The Chicago Bulls and Cleveland Cavaliers have put together one of the best second round series NBA have seen in years but injuries have played a huge part in the matchup. After missing game 4 due to a hamstring injury, NBA all-star Paul Gasol is out again tonight for Game 5 in Cleveland.
According to Chicagotribune.com,
Asked whether Gasol was improving, Thibodeau said, "A little bit."

Gasol said he could only run at 40 percent of his full speed and hasn't even tried to change direction, and he isn't sure whether he'll be able to go in Game 6 on Thursday. He did say that this hamstring strain isn't as serious as the previous two he has suffered (one sidelined him for a month, the other for two and a half weeks).

The Bulls experienced life without Gasol in Sunday's Game 4 loss, and it wasn't pretty. Gasol, who exited midway through the third quarter of Game 3, is the type of dead-eye shooter who can stop the long scoring droughts the Bulls experienced in Game 4.

Playing with more pace would help too. Far too often in Game 4, the Bulls found themselves in late-shot-clock situations, their half-court offense stagnant.

"I would say it starts with me, pushing the ball, getting everyone to run with me, getting everybody to their spots a little quicker so when we are down here, we're not holding the ball too long and going against the shot clock," Derrick Rose said. "I think that's why we had that lapse in the last game where we didn't score for like six minutes. We shot a lot of jump shots but we were walking the ball up. We didn't run. We didn't attack."
With Pau Gasol out for game 5, who do you think will win tonight? Let us know below and stay tuned to HHS1987 for all your sports news.
© 2015, Eldorado2452. All rights reserved.