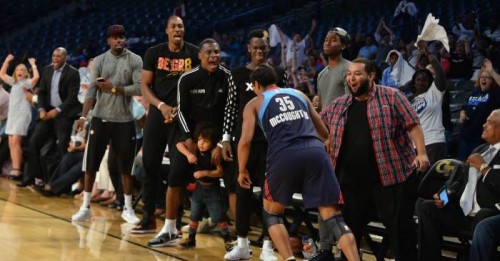 What a night at the McCamish Pavilion on Georgia Tech's campus in Atlanta. Last night, the Atlanta Dream took on the Seattle Storm in the first round of the 2016 WNBA playoffs and it was a night to remember. This year, the WNBA playoffs are set up slightly different and the first two rounds of the WNBA playoffs are all single game elimination/ win or go home. After trailing several times in the game, the Atlanta Dream defeated the Seattle Storm last night (94-85) and they are moving on to face the Chicago Sky on Sunday at noon.
I found extreme joy in the Dream's win for many reasons. Not only did the Dream advance to the next round of the playoffs, I got to see a great game of basketball from Atlanta Dream star/ USA Olympian Angel McCoughtry. Dream star Tiffany Hayes was suspended last night due to picking up her 7th technical foul and we all knew it would take a total team effort to make up for Tiffany's lost. During Dream warmups, I told Angel she would needed to have a 50 point night. She looked at me and smiled and during the game she most certainly delivered.
Angel finished the game with 37 points on (14-21) shooting and if she didn't miss about 7 minutes of play after a brief injury, she may have scored 60 points. Atlanta shot .556 from the field (10-for-18 FG) in the third quarter, to flip an eight-point halftime deficit and tie the game at (66-66) entering the final 10 minutes of regulation. Aside from Angel's performance, most importantly the Dream got the win and they are moving on to the next round.
2016 WNBA Most Improved Player Elizabeth Williams had a big night as well grabbing 16 rebounds. Williams' 16 rebounds marked her 11th double-figure rebounding effort this season and fifth double-figure rebounding game in the last six games overall. Williams' 16 rebounds also tie her regular-season career-high. Atlanta Dream rookie Bria Holmes was huge as well. Holmes scored 21 points on (7-13) shooting. Holmes has double-figure points in 10 of her 11 starts this season. Her 21 points marked her top scoring effort during her rookie season.
Wednesday's 94-85 playoff victory over the Seattle Storm marks Atlanta's first postseason win since August 24, 2014, against Chicago (92-82) and is its first home postseason win since September 26, 2013, in the Eastern Conference WNBA Finals against Indiana (84-79).
The Dream not have a new task at hand. The Dream will advance to face the No. 4 seed Chicago Sky in the second round of the 2016 WNBA Playoffs at Allstate Arena on Sunday, Sept. 25, 2016, at 1 p.m. ET on ESPN2. Checkout some footage from the Dream's victory below. Stay tuned to HHS1987 for more WNBA news. Follow @eldorado2452 on Twitter and Instagram for all your Atlanta Dream and sports news. (The cover photo was shot by Torrey Fields @Fieldsvision)
Watch @Bholmes23 score a career-high 21 pts in her 1st @WNBA playoff game to help the Dream beat the Storm! #RWTD pic.twitter.com/W3KYi3TfNt

— Atlanta Dream (@AtlantaDream) September 22, 2016
© 2016, Eldorado2452. All rights reserved.