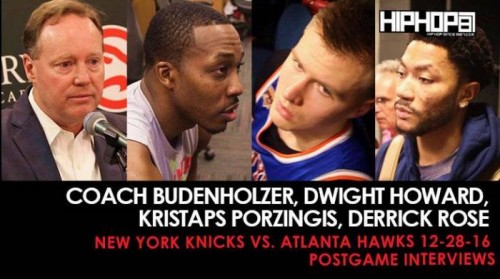 On December 28th, the Atlanta Hawks defeated the New York Knicks (102-98) in overtime at Philips Arena. Following the game, we caught up with Atlanta Hawks head coach Mike Budenholzer and Hawks star Dwight Howard as well as New York Knicks stars Kristaps Porzingis and Derrick Rose post game to get their insight on the results.
For the Knicks, once Carmelo Anthony left the game, Derrick Rose became the Knicks offensive leader. Rose shot (9-28) from the field and finished with 26 points along with 7 rebounds and 6 assist. Rose kept his team in the game but a turnover in overtime may have been the New York's lost. Knicks sophomore star Kristaps Porzingus was effective in the game. Porzingus finished with 24 points but he missed two foul shots in the final ten seconds of overtime that costed the Knicks big time. After the game, Porzingus and Rose spoke on their play after Carmelo Anthony left the game and their performance down the stretch in overtime.
For the Atlanta Hawks, it appears to me that when Dennis Schroder and Dwight Howard have big games, the Hawks win. Dwight Howard continues to be a menace in the paint as he finished with 16 points and 22 rebounds. Howard was also (4–6) from the free throw line. Hawks point guard Dennis Schroder's game seems to be growing right in front of us. Schroder finished the game with 27 points and 5 assist on (11-21) shooting. Following the game, Coach Bud spoke on the Hawks staying focused and getting the victory. Dwight Howard spoke on his 22 rebound performance but reminding the media that his mission is to not get to high or low after a win. He wants his team to remember it is a long season.
The Atlanta Hawks return to the court on Friday December 30th as they host the Detroit Pistons. The New York Knicks continue their road trip on Friday as they take on the New Orleans Pelicans in New Orleans.  Stay tuned to HHS1987 for more NBA news. Follow @eldorado2452 on Twitter and Instagram for all your Atlanta Hawks sports news.
Follow on Twitter/Instagram:
@ATLHawks
@NYKnicks
@DwightHoward
@Drose
@Kporzee
@Eldorado2452
@HipHopSince1987
@DannyDigitall
© 2016, Eldorado2452. All rights reserved.