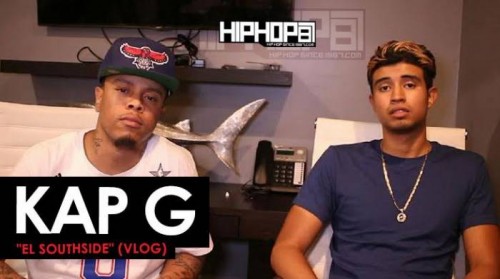 Recently Atlantic Records and I Am Other presented a private listening session for College Park native Kap G's project 'El Southside' hosted by DJ Drama. Held at the acclaimed Means Street Studios, a few special guest were invited for an afternoon of conversation, drinks, food and music. As guests indulged on the taco bar provided by Chef Petey, Kawan "KP" Prather  took the floor to introduce Kap G to the crowd and Kap G previewed a few of his latest visuals.
Following the listening session, HHS1987's Eldorado sat down with Kap G to get a in-depth view of his new project 'El Southside' and much more. Kap G explained linking with DJ Drama on this project and why he decided to work with the likes of Young Thug, Ca$h Out, YFN Lucci and others. With one of the largest music conference known to man set to kickoff in a few weeks, we also spoke with Kap G on his plans for SXSW 2016. Kap G assured us he will be mobbing though Austin with his crew and that he plans to rock every stage he touches during SXSW.
Before concluding the interview, we also spoke with Kap G on his plans for 2016. Kap G spoke of recently working on new music in Los Angeles with Pharrell and Latin American star J Balvin and the chances of us seeing him in more films following the success of the movie "DOPE".
The interview was conducted by Eldorado (Terrell Thomas). The interview/vlog was shot by Danny Digital.
Follow on Twitter/Instagram:
@therealKapg
@Eldorado2452
@HipHopSince1987
@DannyDigitall
© 2016, Eldorado2452. All rights reserved.