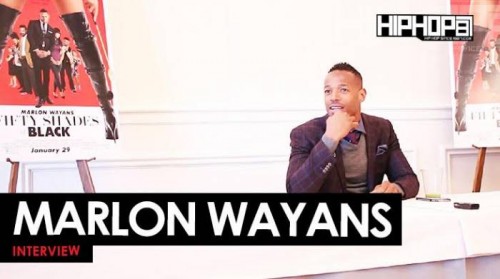 Comedian/actor/producer Marlon Wayans has kept us laughing for years and Marlon is looking to keep that trend going in 2016. On January 29, 2016, Marlon Wayans and Open Road Films is set to release the new film "Fifty Shades Of Black", a parody film based on the hit book/movie "Fifty Shades Of Grey" so HHS1987 caught up with Marlon during his private tastemakers roundtable here in Atlanta to get Marlon's take on the film and everything he has going on.
"Fifty Shades Of Black" is an outrageous comedy starring Marlon Wayans in the role of Mr. Black a wealthy bachelor looking to spice up his love life. We kicked off the roundtable speaking with Marlon on his inspiration for producing this film and how familiar he was with the book "Fifty Shades of Grey". Marlon spoke on hearing the hype sounding the book "Fifty Shades of Grey" and after reading it for himself, knowing instantly that he had to recreate from a black man's prospective.
Marlon give us deep insight on the film, the films budgeting and how the cast was selected. "Fifty Shades of Black" also stars Kali Hawk, Affion Crockett, Fred Willard, Mike Epps, Jane Seymour, Florence Henderson, Andrew Bachelor, Kate Miner and Jenny Zigrino. Having such a diverse cast, Marlon explained how the film was shot and how with this film being a parody they were able to allow each actor/actress to be themselves and still stay within the story line.
Expanding his talents and taking a most active role behind the scenes, Marlon closed out the roundtable speaking on not playing Richard Pryor in a upcoming film, accepting that and instead of playing a legend, becoming a legend of his own. Marlon spoke on his new deal with NBC and his upcoming sitcom "Marlon". Set to drop begin production soon, "Marlon" could be hitting NBC later this year.
"Fifty Shades of Black" hits the big screen on January 29th. The interview was conducted by HHS1987's Terrell Thomas (Eldorado). The interview was shot by HHS1987's Danny Digital.
Follow On Twitter/ Instagram:
@MarlonWayans
@Eldorado2452
@HipHopSince1987
@DannyDigitall
© 2016, Eldorado2452. All rights reserved.