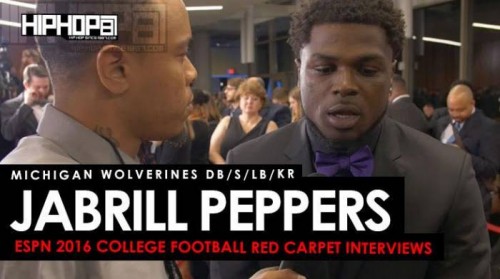 On Thursday December 8th, the 2016 Home Depot College Football Awards on ESPN took place in Atlanta and some of the nation's most talented athletes were in attendance. As College Football's biggest stars had a chance to celebration their personal accomplishments in the ultimate team sport, we caught up with Michigan Wolverines Jabrill Peppers.
Jabrill Peppers is one of the most versatile athletes in the country. While on the ESPN & Home Depot College Football Awards Red Carpet we spoke with Jabrill about being the only defensive player this season nominated as a Heisman Trophy finalist. Peppers joins fellow Michigan Wolverines defensive/special teams star Charles Woodson in that honor. Peppers also spoke on his learning experience this season under Michigan head coach Jim Harbaugh. Jabrill Peppers elaborated that Harbaugh still coaches like he is in the NFL and he holds them accountable for their actions. Something any great leader would do.
As we concluded our interview we spoke with Jabrill Peppers on the Michigan Wolverines upcoming matchup against the Florida State Seminoles in the Orange Bowl. Peppers spoke on FSU star Dalvin Cook and the talent of Florida State but he assured me that the Wolverines would be prepared and that they are looking for to the matchup.
The interview was conducted by Terrell Thomas. The interview was shot and edited by Antoin Martin.
Follow Us On Twitter/ Instagram:
@JabrillPeppers/@teamjreall
@Eldorado2452
@HipHopSince1987
@DirectorAMartin
© 2016, Eldorado2452. All rights reserved.