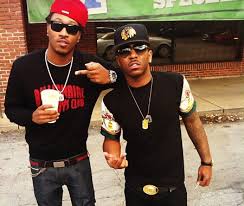 Just when you thought a relationship was solid, you learn otherwise. According to documents recently filed, Future's former boss Rocko is suing his former artist, Future, for a breach of contract. As the story goes, in 2011, Rocko says he signed Future to release first six albums with under his imprint, A1 Recordings. When Future signed a distribution deal with Epic Records, Rocko says he was taken for an enormous amount of money in advances, upwards of $10 million.
Future responded to the allegation via his Twitter account:
Call them people & tellum u was jus playing Brodie..Ion want my nigga lookin like no baby momma..Real street nigga went to the court house,how did it feel when u signed the papers???? My dog gave a statement
Rocko's response:
LORD KNOWS I HAVEN'T SEEN A COURTHOUSE IN AGES! THAT'S WHAT LAWYERS ARE FOR!  OLD HOMIE OF MINE ONCE TOLD ME JUST LET THE LAWYERS HANDLE IT…
This is only the beginning, stay tuned for more details as they unfold.
© 2016, Oktane. All rights reserved.