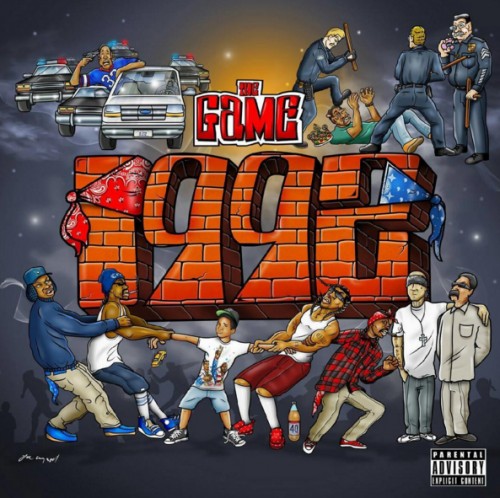 Taking it back to the rise of West Coast Hip-Hop, the Game releases a  Doggystyle-inspired cover art illustrated by, Daryl "Joe Cool" Daniel. Check out how it came together in The Game's IG post below.
#1992 cover art [FOR GAME FANS ONLY] by @jo2cool_the_artist is inspired by what was going on in my life, my city & the world when I was 12 years old coming into my teenage years: The Los Angeles Riots, Michael Jordan & the #DreamTeam featured above on my shirt won Olympic Gold… Crips & bloods were both pulling me in both directions & joining one of the gangs was almost a normality for a young African American male growing up in Compton & the surrounding areas of Los Angeles County….. Rodney King getting abused by the cops was an unforgettable incident & caused mass hysteria worldwide & the famous OJ Simpson car chase/trial was a huge worldwide televised situation that racially divided a country…. So these are some of the many topics based around my childhood touched on in this album Thst I wanted to include in the artwork….. I thank @jo2cool_the_artist (most known for doing @SnoopDogg's 1st album cover #DoggyStyle) for pulling off my ideas & putting them into a dream sequence for me…….. I know my REAL FANS have been asking for album artwork & I know you'll all appreciate this as I finish up album & prepare to tour the world & see all of your faces !!!!!! I love & appreciate y'all & im happy to bring this cover to you guys today !!!! #1992 #NOFEATURES #TheBlackWallStreetRecords #eOne #5thAmmendment #BloodMoneyENT
© 2016, Oktane. All rights reserved.