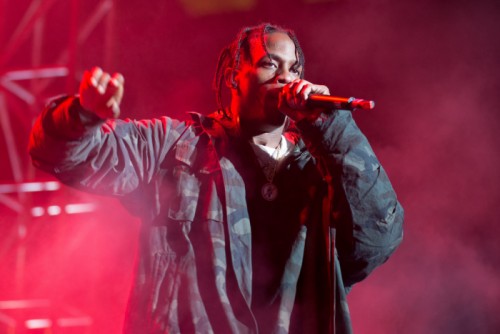 Travis $cott  recently finalized a major deal with Apple Music's streaming service and just like that, his Birds In The Trap Sing McKnight, album is on it's way.
Tuesday night during a performance at the Ford Amphitheatre in Coney Island,NYC, the Missouri City's mega star announced to the audience that his forthcoming album Birds In The Trap Sing McKnight, will be ready to go next Friday, August 5.
The album, which will include his summertime banger, "Pick Up The Phone" with Young Thug & Quavo, is set to be released exclusively through Apple Music. Along with the big news, Travis $cott also performed an unreleased song from the album. The album is set for next week, but some feel like even that is too-long for Travis! It took almost a year, but next week, Birds In The Trap Sing McKnight will be here. Check out the announcement and new track below.
Announcement:
TRAVIS SCOTT ANNOUNCES BIRDS IN THE TRAP TO DROP AUGUST 5!!!! #TravisScott #Bittsm #ConeyIsland pic.twitter.com/p1AbqMpfRi

— Jimi Kendrix ⛵️ (@GroovyObrien13) July 27, 2016
New Track:
New Travi$ track played before release date announcement. pic.twitter.com/6BMbTkwpnp

— Dynamics • £ (@theDYNAMICS) July 27, 2016
© 2016, KevKeise. All rights reserved.