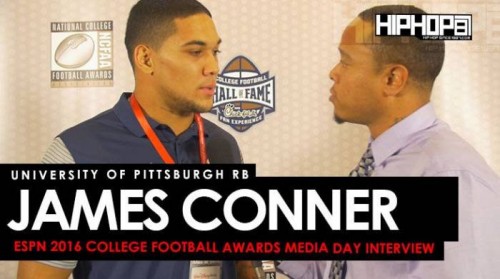 On Wednesday December 7th, ESPN held media sessions for the 2016 Home Depot College Football award finalists at the College Football Hall of Fame in downtown Atlanta. As many of the award finalists were preparing for a few days of celebrating their individual achievements for the 2016 College Football season, we caught up with University of Pittsburgh running back James Conner.
James Conner has a unique story because not only has he defeated the odds on the gridiron, Conner has also defeated his fight with Cancer. Connor won his battle with Cancer in May 2016 and in September, Connor was ready for the 2016 season leading his Pittsburgh Panthers out the tunnel for their first game of the season. During the year, James Connor ran for 1,060 yards and 16 rushing touchdowns. Connor also caught 4 touchdown passes on the year.
During our interview with James Connor, we spoke on his victory against Cancer and how it helped him in his growth as a man. Thanking God for giving him the strength to beat Cancer, James gave us some deep insight on how it meant the world to him to get back on the field with his brothers at Pitt. Before concluding our interview, James Connor spoke on Pitt defeating the number #2 ranked team in the nation (Clemson), the honor of receiving the Disney Spirit Award for the Most Inspirational Player, if he may enter the 2016 NFL draft and more.
The interview was conducted by Terrell Thomas. The interview was shot and edited by Antoin Martin.
Follow Us On Twitter/ Instagram:
@JamesConner_/ @conner24_
@Eldorado2452
@HipHopSince1987
@DirectorAMartin
© 2016, Eldorado2452. All rights reserved.